Tell us about Swordcraft Brisbane?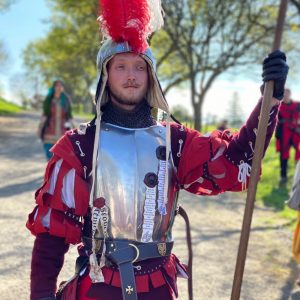 Swordcraft Brisbane is a Live Action Roleplay (LARP) community group based in South Brisbane. LARP itself is essentially where a group of people get together and act out a roleplaying game in real life.
Our game is based in a medieval fantasy world, so our player's costumes and characters range anywhere from humans, elves, and dwarves all the way to monsters like orcs and goblins, and everything in between.
We play weekly every Friday night, where our players strap on their armour and pick up their weapons and compete in a two-hour scenario with their friends against their enemies!
How long have you been involved, and what sparked your interest?
I've personally been LARPing for just over six years. Growing up reading books like The Hobbits & The Lord of the Rings really cemented a love for medieval fantasy that is still with me even now, probably more than ever!
I've always loved the stories of grand adventure and heroes and the idea that I could live that reality in a LARP setting caught my interest the moment I heard about it. I began LARPing as a player and progressed into running my own Warband (essentially a team of players) before moving into an Admin position at Swordcraft Brisbane.
What is your position within the organisation?
My current position within Swordcraft is Chapter President of Brisbane, but I am only a small part of an incredible team of motivated and passionate people that help bring Swordcraft Brisbane to life.
You have an event coming up called 'Gates of Helsreik', what is it all about?
Different to our weekly events which are two hours of combat-focused LARPing, our event "Gates of Helsreik" runs over four days and is a 24hour immersive experience for our players. Players can set up camps and roleplay their medieval life with their friends all while playing their chosen fantasy characters in an immersive atmosphere. We want attendees to Gates of Helsreik to feel like they are in a fantasy story or videogame!
What made you choose Victory Village at Riverbend as the location?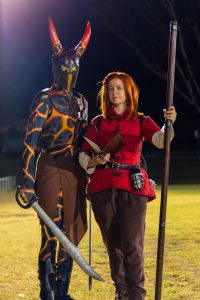 Naturally, the idea of telling our story within a real medieval-themed village is something I've always wanted. The idea is that hosting our event at Victory Village will help make the suspension of disbelief as easy as possible for our players. If they feel like they are actually "in" a medieval fantasy village, they will be able to connect with our story easier and have an overall greater experience. Victory Village has such an incredible atmosphere and the community behind it has poured so much heart and soul into creating something truly magical.
How many people have registered to take part?
We generally field anywhere from 50 – 80 players weekly, but as these larger LARP events draw bigger interstate crowds, we are currently expecting approximately 150 attendees to Gates of Helsreik.
Tell us a little about the costumes and swords?
Each of our player's costume tells a different story and is an expression of the character they play. A big part of LARPing is creating a persona you enjoy and feel comfortable playing, and creating a costume that players feel expresses that is a unique and creative experience to everyone who attends. As we are a LARP group, our players use foam latex weapons for battle instead of steel weapons. This is so we can simulate battles without any of the danger associated with using real swords and axes etc.
Are the general public able to purchase a ticket?
Anyone can purchase a ticket to Gates of Helsreik, this event is a 24hour immersive experience, and attendees will be expected to be wearing a medieval fantasy costume (anyone turning up without a costume will be denied entry to the event). The event will be taking place from April 30 to May 3. All attendees must register.
How can people find out more or become involved in Swordcraft?
For anyone interested in getting involved or finding out more, find us on Facebook – https://www.facebook.com/swordcraftbrisbanelarp
or at our website. https://www.swordcraft.com.au/