I recently got to chat with Former Ironman, life coach and mentor Trevor Hendy before he heads this way for an event next month. I found him very humble, insightful, and full of gratitude for the life he is now living as he dedicates his life to helping others achieve their dreams and realise that anything is possible. Kim Parnell.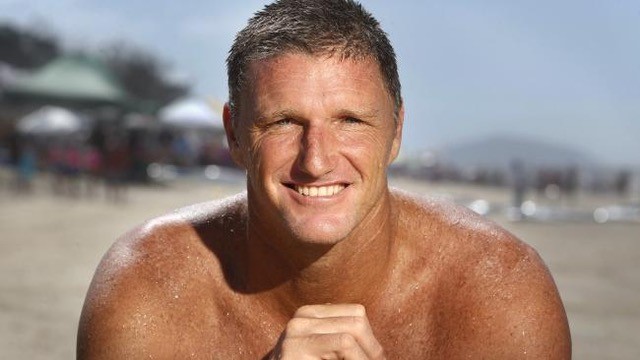 Where do you currently call home? Have you been to the Fraser Coast before?
I live on the Gold Coast and have done so for about forty-eight years. I was born in Melbourne though. My family travelled around Australia for two years when I was really young. We settled on the Gold Coast when I was five.
I visited Hervey Bay about ten years ago now. I have also spent some time on Fraser Island, but we usually go across via Inskip Point. Hervey Bay is a beautiful, peaceful paradise.
Tell us a little about your Surf Life Saving days?
I joined the Nippers when I was eight years of age. Nippers is great for kids as it teaches you to be confident, safe, and aware when you are in the ocean. Interacting with dolphins, whales, sharks, and fish while completing thousands of hours of training gives you a new appreciation, and I learnt to be comfortable in a marine environment.
I am still the President of the Surfers Paradise Surf Club and a life member. The same club where I was as an eight-year-old nipper.
Tell us about the competing edge that made you get into Ironman competitions?
As a kid, I felt bullied and belittled. I was a small, skinny kid. When you go through the whole alpha male thing, you start realising some of the boys seem to have more power and influence. They seem to get the girls and all the laughs.
In the back of my mind and subconsciously, I started to evaluate that the winner gets the girl, and the winner gets the glory. This angst was building inside me. I wouldn't say I liked competition really, but I began to think that it was the only way to get ahead. Eventually, when that switch fully switched on, I decided that I wanted to win the Ironman championships as they got the ultimate of respect in our sport. I wanted to be the best.
I would go out to try to win, not knowing that I had that emotional shadow or that driving force behind it all. I did feel enthusiastic about it though. I loved being free and being in the ocean. I loved going fast, and I loved racing with my mates. But over the years, the feeling just grew. At the time, it was partly healthy and partly unhealthy, I ended up developing a brutal competitive instinct and drive because I was kind of fighting for my life psychologically.
I went on to break all of the previous records and got in the hall of fame because, basically, I didn't want to feel small.
At some point, I had to come back and realise that this wasn't a healthy way to operate because the greed that was giving me fame and glory was also killing me too, and the fame and glory was all a lot of rubbish. So, I had to come back and revisit those thoughts and work out what was really driving me and make things much healthier for myself and those around me.
What did it feel like to win your very first Australian Ironman title?
A relief, I think. A validation that I could. I was pretty young at the time and was the second youngest to win the title. The guys I was racing with were four or five years older and were touted to win.
I suppose that the part of me that felt insecure for so long all of a sudden felt somewhat falsely secure. So, there was a bit of euphoria and celebration, but also a bit of cementing of the ego that I would need to deal with later.
Take us through the training regime required to become an Ironman?
We would do all of the swimming training in the pool during the early morning with the swimming squad, and then we would do board and ski training in the evening and run and transition training during the day. We would do a big ironman session on the weekend and put it all together, so we used to do about twenty-five hours plus training per week.
What I understand health to be now is different to what I understood it to be back then. The role that protein, fats and oils play in a positive diet is much more understood now.
I was always pretty balanced though. I love meat and three veg, so that's a good start. I used to eat fourteen Vita Brits for breakfast in the morning, so I am very regular, (laughs).
It is no different than putting the right fuel in a formula one car. If you want to get a good result and performance out of yourself, you have to work out exactly what works for you.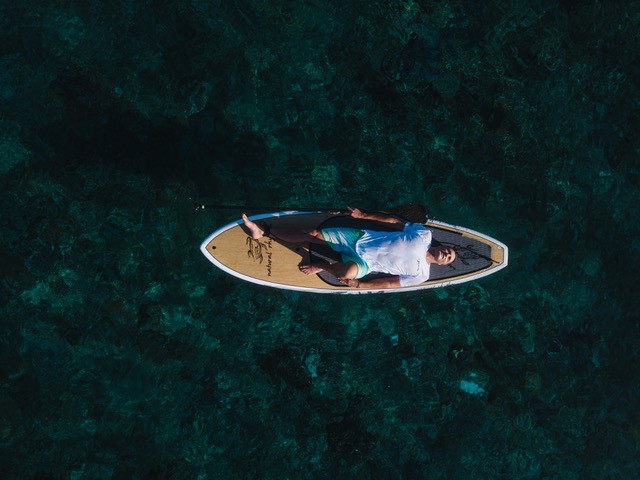 Do you remember how it felt to race with your then nineteen-year-old son TJ at the Australian Titles back in 2015, resulting in a gold medal in the Australian Board Rescue event at Kirra Beach?
Competing with him was just an honour and a privilege, and it was all about love, and it was all about sharing the journey. He was the one that made me realise that I had fallen for a pretty big ego, (laughs), so when I held him in my arms as a baby, and he looked up at me with his big brown eyes, I realised that I needed to have a good hard look at myself as I had lost my way a bit.
To be racing with him nineteen years later and to be fit enough and healthy enough to do that with him, that in itself was like living a dream. I remember that we kept on making it through each round, then we got through to the semi-final after a bunch of fourth places, which is the last place to qualify. Well, we got through the semi-final and won. It didn't matter what happened in the final because we had already had this feeling and experience together. We felt like we were living the dream and already winning.
When we won the final, the event had never been won by a father and son before. It was a crazy experience, but it was an even more incredible experience to tap into that level of precision, and flow with each other and share the experience. It felt a hundred times better than any other victory I had ever had.
It was like it was completely not meant to be and completely meant to be all at the same time. It was such a powerful experience. That is probably one of the biggest highlights of my life as far as achievements are concerned.
As a trainer, mentor, and public speaker, how do you teach people to dispel their negative thoughts to excel and to think like a winner? Tell us about your journey?
It is simple in its pretext but can be challenging to do depending on how deep you are in the negative. The premise I work with is we all have our own answers. The deeper, truer part of ourselves that has all those answers is our natural real self.
That's the first thing knowing that you are powerful and have all of your own answers deep inside that just need to be unveiled. Secondly, the part of us that is leading to the problem and the negative thoughts isn't actually us. It is old conditioning, thoughts, pain, and suffering. We weren't born with these thoughts; we gathered them along the way.
Most of the stuff that we are suffering from is not because we are inadequate, or we aren't good enough; it's because we have had a negative reaction to a negative experience.
As I came out of sports, I learnt that I wanted to be a coach, an advisor, and a mentor. I learnt pretty quickly that the best way to succeed in life is to pass on whatever you have learnt to help others succeed too. So, I help people find the truth and release all of their negative thoughts.
I am passionate about this line of work because that's what happened to me. I was lucky enough to bump into the people who could help me realise that all that competition stuff I talked about is not really in my deeper nature; that's not what I am about. Once I realised this and was released from those thoughts, my relationship improved, and my inner happiness returned.
How do you feel about coming back to Fraser Island and talking at the upcoming long lunch?
I do everything intuitively and felt really excited when asked to come to the Fraser Coast and be part of this event. I absolutely had to say yes. I am looking forward to supporting Forget Me Not, helping out and being part of this special event.
About Forget Me Not
Forget Me Not honour the rights of every child, and work to ensure children are thriving, vibrant and connected to family, community, and opportunity. For more information about this wonderful charity, visit www.forgetmenot.org.au.
The Kingfisher Bay Resort Charity Long Lunch is scheduled for Friday, November 5 and is always a sell-out.