By Mayor George Seymour
Here on the Fraser Coast, we have a wealth of well-preserved historic buildings. What is rare though are historic ruins.
I find exploring ruins to be a very powerful and evocative experience. One's imagination must fill the gaps that time has whittled away.
Whilst not ancient, the ruins amongst the trees at the Police Paddock in Tinana are fascinating and point to a unique moment in history.
Here, amongst the otherwise untouched bush are huge concrete slabs, piping, and other intriguing remains. The concrete slabs are in remarkably good shape and, if the leaves and debris were swept aside, could function as skating rinks in the midst of this untamed bushland.
What is preserved in Police Paddock was actually part of a much larger World War II logistical endeavour which stretched for kilometres across Tinana into what is now private property.
In February 1943 orders were given for plans to be drawn up for a complex camp here with all necessary facilities and an interconnecting road system.
The US Army 27th Division was to arrive in Australia in November 1943 and were to occupy the site.
Preliminary plans were drawn up and on 31 July the construction order for the camp was given, with a construction period of three months. The site would require facilities, power and running water for more than 15,000 men. 18 miles of roadway would be required, involving 50,000 cubic yards of gravel.
However, despite the project being identified as a priority, there was a lack of available labour, by September when the construction was underway there were only 17 men engaged on the site.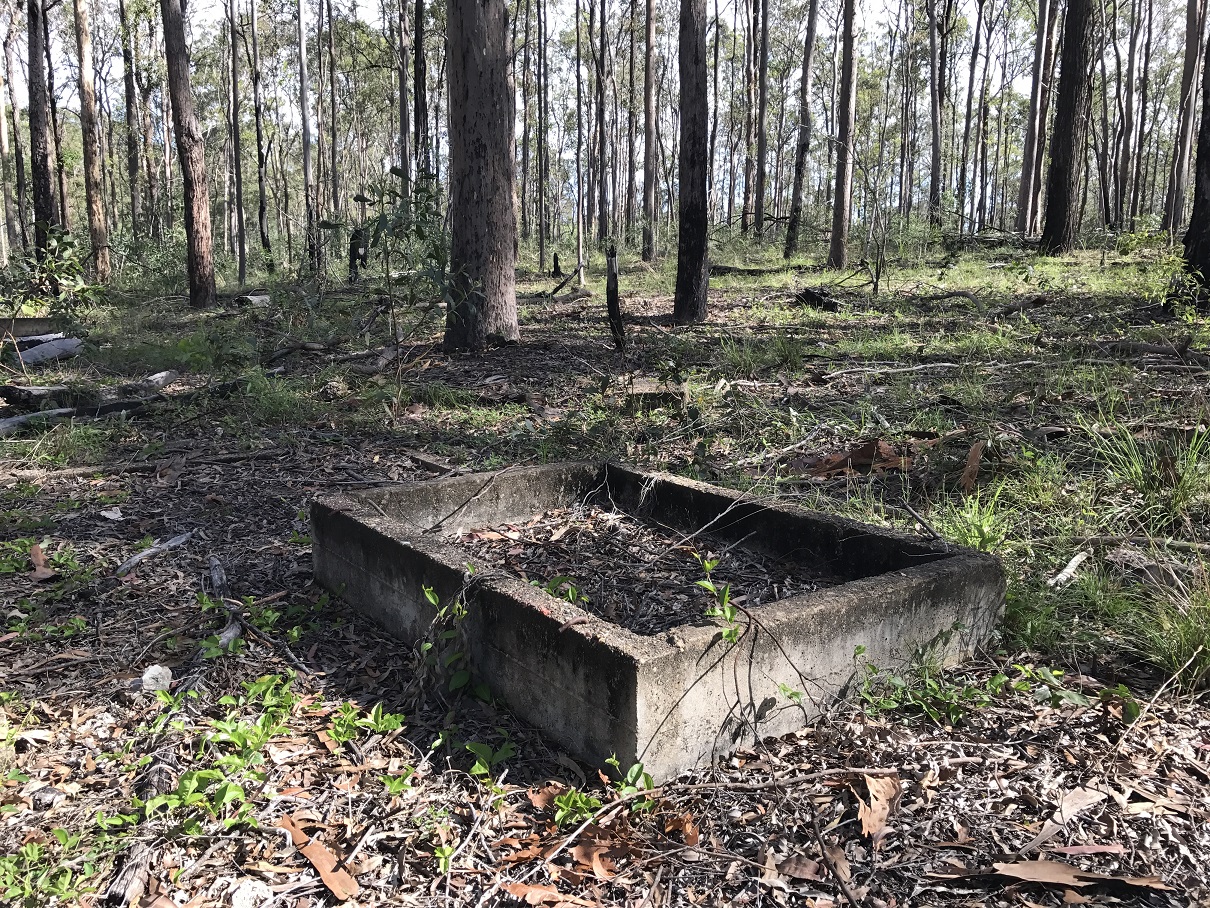 By October there was a stream of prefabricated huts, pipes and other building materials arriving here at the site, but it was clear to all concerned that the November finish date was not going to be achieved. Due to favourable developments in the War, there were thoughts of abandoning the Tinana construction, but as it was about halfway finished, it was decided that work would continue albeit at a slower pace and with a revised completion date of 31 January 1944.
The layout was dispersed over 23 square miles of undulating forested country. Clearing for roads and building sites required a significant contingent of heavy machinery. The pipeline to the water reservoir was 18 miles long.
The administration of the construction site was actually run out of the warehouse building on Wharf Street that is now the Maryborough Military and Colonial Museum.
Walking amongst the ruins in Police Paddock, it takes a fair amount of imagination to comprehend all the kitchens, ablution blocks, recreation huts, roads, warehouses, latrines, administration buildings, infirmary huts and other buildings that the remnants represent.
By May of 1944, there were no plans for any more major US army divisional units to be deployed within Australia. At this stage, with the 27th Division having never come to Australia, it was handed over to become an Australian Staging Camp.
The site never saw the many thousands of Americans it was quickly constructed for. Built in war time when Australia was under threat; in peace time some of it has been subdivided up, and backyard sheds have utilised the slabs that were constructed for mess halls. Here in police paddock though, large sections are able to be explored where nature is slowly spreading through the ruins of this once busy army camp.