-By Kim Parnell-
Matt and Rebecca are extremely proud to be celebrating the eighth year of their business, Art by Rebecca Jane. They have been very fortunate along the way and have many great customers and fans, a lot of whom have turned into friends.
Rebecca says, "Our approach has always been simple: I create art that inspires or appeals to me, rather than following trends. When selecting products, we opt for items we'd use ourselves, those that can be elevated with our artwork or that offer a unique alternative to what's available elsewhere."
Every painting is a labour of love for Rebecca, who prefers to immerse herself in the location she's about to depict. She shares, "I want to absorb the beauty, experience the wonders, observe the wildlife, and talk with people to uncover the unique details that make a place special, integrating them into my artwork.
"My paintings are a glimpse into my mind and imagination, shaping the world as I envision it. I want people to find those little details that are special and keep finding something new every time they look."
Every Saturday at the Urangan Pier Market, Matt and Rebecca get to see their 'Loyal Royals' who visit regularly and may not need more of their products but definitely want more and eagerly anticipate each new painting.
The couple also meet many 'Newbies' who are fascinated by the story behind Bec the Artist and Matt the Printer. Witnessing the astonishment and delight that their functional art brings is a rewarding experience.
Rebecca adds, "It's quite common to meet 'Newbies' who've already heard of us, received our art as gifts, or discovered our products through friends, family, or our stockists. It's a humbling and motivating experience when people thank us for sharing our art with the world."
Occasionally there is pressure to get an artwork done quickly, but once the client sees the progress and understands the intricate detail that goes into the painting they relax and let the process unfold. When it comes to making orders and receiving them, they are very understanding that Matt is a one-man printing show and isn't just taking items off shelves, but printing each order, one item at a time.
Rebecca has left her artistic mark on various locations, from Lady Elliot Island to the Torquay Esplanade (where What's On has a cameo) the painting was for the Torquay Licensed Post Office. The Hervey Bay Visitor Information Centre also has a huge piece depicting the 'Best of the Fraser Coast'.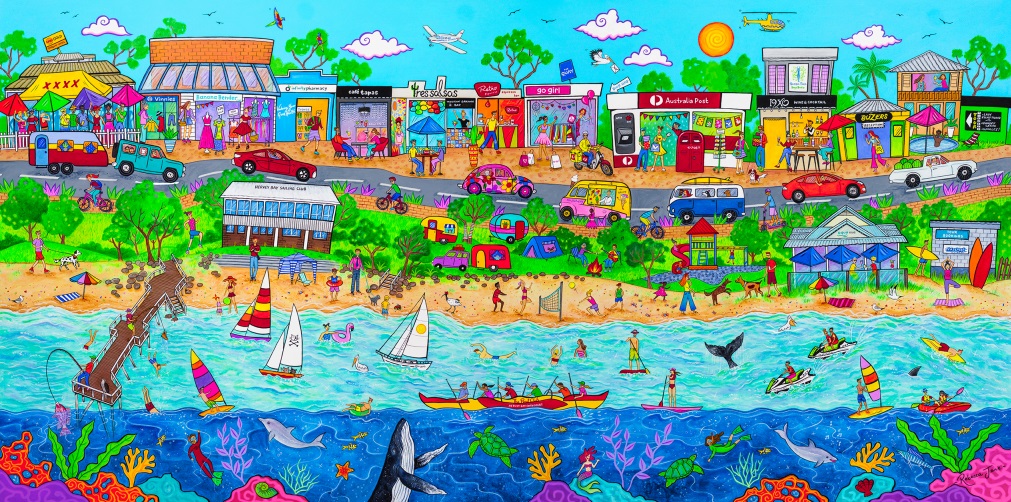 Pacific Whale Foundation and Whalesong Cruises have artworks too, featuring their boats. Many of these businesses also sell Art by Rebecca Jane's products.
"I've also painted 'Moonaboola' for Genesis Care and out-of-area locations such as Bollon in outback Queensland, Montville on the Sunshine Coast, and Moreton Island," she shares.
Art by Rebecca Jane's products have found their way to K'gari and are now available at Kingfisher Bay Resort and Eurong. Rebecca reflects, "I painted K'gari early on our business journey, hoping it would lead to something more.
"We reached out through emails and word of mouth, but ultimately, the right person found us at the Urangan Pier Market, fell in love with our artwork, and heard our story. We are immensely proud to represent the Fraser Coast and beyond."
Looking back, Rebecca has always had friends and family compliment her art and encourage her to take it further. Her mum knew Rebecca would be an artist almost as soon as she came into this world.
"Art has been my lifelong passion. However, I had my doubts about turning it into a livelihood. I'd always sold my art, but it was a hobby and a labour of love. It was Matt who encouraged me to start our business and was willing to take risks.
"He believed in the uniqueness of my art and style and knew it would be loved. We just needed to find a way to make it more accessible than simply hanging on the wall".
Matt's unwavering support pushed Rebecca to evolve her artistic style, broaden the subjects and places she paints, and conquer her earlier reservations about depicting people and real locations.
Her painting 'Thriving Torquay' contains 93 people and depicts the Torquay Esplanade (What's On even has a cameo) This is now one of Rebecca's favourite styles of painting. It is a welcome challenge, as it requires capturing every important detail.
Rebecca acknowledges, "I admire Matt's dedication and motivation working as early as 5 am in the cold of winter and working in summer amongst machinery that produces 200 degrees of heat.
Matt adds, "In any business or relationship, having complimentary skills is invaluable. Bec reminds me of what needs to be done, often the small details I overlook.
"She has the vision to see what products will work for us. Bec listens to my advice about things that need to be included or changed in a painting (even if it turns out it was her idea all along). She always offers assistance, even when she has her own jobs and deadlines".
Their Australian made or printed by Matt products make fantastic gifts and souvenirs, they include; coasters and placemats, stubby, wine and water coolers, cooler bags, puzzles, tea towels, oven mitts, aprons, baby bibs, bar mats, bottle openers, pencil/makeup cases, tote bags, doormats, wine glass slippers, greeting cards, icy pole holders, journals, keyrings, ceramic latte mugs and stainless-steel travel mugs, lens cloths, cushion covers and pillowcases, ties, t-shirts, and singlets. Their selection is extensive and continually expanding.
Rebecca and Matt express their heartfelt gratitude to everyone who has supported them over the past eight years. They look forward to seeing you at the Urangan Pier Market each Saturday and encourage you to support their local stockists; Goody's on the Beach, Torquay Licensed Post Office, Pacific Whale Foundation, Riverheads Pharmacy, and Hervey Bay and Maryborough Visitor Information Centres.
To find out more, go to www.artbyrebeccajane.com
And follow us on Facebook – Facebook.com/artbyrebeccajane
Or Instagram – Instagram art_by_rebecca_jane
Photos supplied by Art by Rebecca Jane
*Cover photo – Rebecca and Matt – At the market wearing their wares.