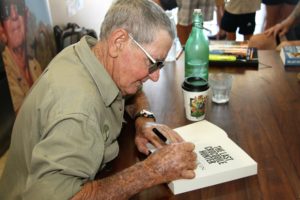 The crowds flocked to Mary Ryan's Book store in Hervey Bay recently to listen to father, wildlife Campaigner, Herpetologist, and Author, Bob Irwin talk about his book, 'The Last Crocodile Hunter, with Amanda French, a Father and Son Legacy'. Bob and Co-Author Amanda French work together to provide support to many Australian wildlife organisations, Amanda also campaigns for various other wildlife causes. The duo has travelled 20,000 km through the Australian outback travelling to places like Cape York, as well as many other towns to inspire others and to tell their stories.
Bob Irwin was born in 1939 and grew up in the Dandenong Ranges. Later he brought his family to Beerwah and built Beerwah Reptile Park from the ground up. He is also the Founder of Australia Zoo. He amusingly tells us that all throughout his life his family grew up surrounded by poo, Glider poo, Kangaroo poo, this is something that only other wildlife people would get but it was just normal for the Irwin's. Theirs was a different lifestyle than the kids of today as they weren't cooped up inside on computer games, but out in one huge playground.
Bob says that "The Australian bush is like a classroom as there is always something happening.
My advice to youth is to make up your mind about what you want to do in your life, if you believe in it enough and want it to come it will".
When asked about his love for the Fraser Coast Bob said, "The Fraser Coast is a beautiful part of the world. I personally love the whales, Hervey Bay is the whale watching capital of the world. The people of the Fraser Coast also have such a friendly attitude each time I come to visit".
His message to the people on the Fraser Coast is to, "Appreciate what we have in our own backyard because it is the most beautiful place on the coast". Each of us needs to believe in our own ability to make this world a better place, it doesn't matter if you are one or many, you can still have a voice".
Steve is never far from Bob's thoughts, Bob reflects on their time together, "I am a very privileged father to have got to spend my life with him. His legacy still exists today through me. We were very like-minded. When Steve passed away a big part of me went with him, and you never get that back again. People handle death differently, I did not handle it very well. Death happens far to often so my advice would be to surround yourself with good people it will make a big difference".
"Life is quite often a bitch, it really is at times. You have to be tough and get back up, and don't worry about the trivial things". Bob says.
We all remember when Wildlife Warrior, Steve Irwin died, most of us can recall what we were doing at that exact moment, on that exact day when the news broke and how we stopped in disbelieve as the news travelled around the world.  Steve touched everybody, and it is great to see that his legacy lives on.
The Bob Irwin Wildlife and Conservation Foundation was founded in 2012 and seeks to, 'build upon, expand and secure the legacy started by Bob and his son Steve'. This is a not-for-profit foundation that, 'dedicates itself to the preservation of wildlife and its habitat for the benefit of current and future generations'. The Foundation achieves this through education, advocacy and support. There are many ways that each of you can show your support to this cause, to find out more go to: www.bobirwinwildlife.org.au.