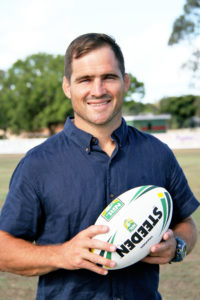 Former Australian professional rugby league footballer, Nathan Friend retired from the game he loves so much after the season finished in 2016. Since the end of his career Nathan has dedicated himself to his family, to his role representing NRL as an Ambassador, and to life as a Bricklayer.
Nathan recently spent some time in Hervey Bay as a guest speaker of the Hervey Bay Seagulls Club, it is there that I got to catch up with him.
Nathan, what have you been up to since your retirement last year?
" I have become an NRL Ambassador, this has given me the opportunity and time to give back to the community.  I help educate players, and the public about a range of things, and especially about health and fitness. The NRL has plenty of information to give out, they use us as  a tool to reach people and to spread the word. After our semi-final loss I took a couple of weeks off and moved back into the building trade as a  Brick layer. I also started on some of my own renovations at home. I had a great break over Christmas with my family, for the first time without restrictions. Usually there would always be training or games and we would only get about seven days off over the Christmas break".
Even though it is early days, do you miss playing?
" To be honest I think it was the right time to leave. I was very relieved, not because I had finished playing but because of the pressures that I put on myself. I stepped away from a game that I have loved my entire life, I have played since I was 5. Now  I  can put valuable time into my family,  I have two boys that are nine and eight and now weekends are spent with them. I can live a normal life once again. Playing professional football may look like a Rock-star life but I can understand why people crumble if they  don't  have the support around them". 
How many injuries have you sustained in your Career, and do you have any pain associated with them?
" I can tell you that you remember every single injury you ever sustained.. It takes a minimum of three months to get over each injury you are always sidelined for that time and in rehab, and that is the last place you want to be.  I have  had about ten operations over my 15 year career. From my ankles through to my Jaw that I broke in New Zealand, the only thing I am lucky not to have broken is knees. I was surrounded my great people and medical staff.  When I dislocated my shoulder in New Zealand, and  in the process squashed my nerve to my  Deltoid, (my shoulder muscle).  I waited after the operation for the three months healing time, we wanted to  give the  nerve time to regenerate but it didn't happen, so then I had to have a nerve graph three months after having a shoulder operation. I had a nerve graph to cut the nerve among other things, but it did not work so my Deltoid doesn't work which hurts sometimes, and in every day life it is pretty frustrating but apart from that every other operation seems to have been ok".
How did you get started on the Nutrition Path?
" I started my career in Brisbane and back in those days there was no such thing as a nutritionist you just had to fend for yourself and you just ate until you felt good then trained hard and performed.  Being a young guy you think you are invincible, and that you can have a few beers on a Friday night and play on a Sunday. When I  moved down to Melbourne we trained really hard it was a great club to be at. Especially if you had set the foundation for yourself and had the right work ethic. But even down there food wasn't a big part of the equation,  it was more about training and training hard. I moved to the Gold Coast after four years in Melbourne that's where I started to take up the nutrition side of things. We got introduced to a Trainer called Billy Johnson, an old school trainer. We moved to beautiful Queensland, and in comparison to Melbourne it was very warm. We trained early mornings to try to eradicate the heat but it was still there. So I went from about 89 kilos to 81 kilos in that one season. I felt much better than I had the previous year at this weight although  it wasn't an ideal playing weight because I was a little guy.  I felt much better physically and mentally as well.  So  I enrolled in a certificate 4 in fitness and that rolled into advanced nutrition and ever since that course I have just read books and it is kind of my passion and Joy. A  lot of what I have done is what what has been proven in other fields. I share that knowledge with my players that I have played with and they certainly see benefit in it" .
So how have you adapted your eating habits?
" I live a really clean life and I have done for awhile. I have two boys and a wife who support me tremendously. I eat food that hasn't been processed and I don't eat breads, pastas or potatoes.  I have eradicated all bad fats and now my body runs on the good fats like coconut oils olive oils etc. I converted myself into a fat burner not a sugar burner. This all helps  with your recoveries,  enhances performance and makes you feel great".
What do you enjoy doing to unwind?
" I love to come home and spend time with the boys. We have just renovated and put in a pool, so we hang out in the water. I love it because we get to spend our weekends together. I love being surrounded by family, cooking and home renovations, my wife is an interior designer so we work hand in hand. We love our Thermo mix, I enjoy making sauces, make home-made mayonnaise, stews, broths, That is where I can get my good fats in. I just add it to a salad or a vegetable dish" .
What would be your advice for those wanting to become a football player?
" Go out and have fun and play the sport because you love it. Remember that only a few make it professionally, so make sure that you have a trade to fall back on. Don't put all of your eggs in one basket".
What do you love the most about the Fraser Coast?
" I used to holiday in Hervey Bay from the age of two. Mum and dad  always stayed at the Torquay Caravan park and they still do every Christmas. I have many great memories of running around with the Caravan park kids. You would see the same ones each year. Hervey Bay has such a relaxed feel to it".