With RACQ LifeFlight Rescue Pilot Tony Miller –
By Kim Parnell –
T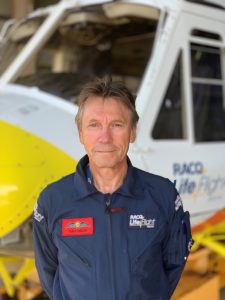 ell us a little about your background?
I joined the Navy in 1977, at15year of age. I was looking for adventure. A visit to the aircraft carrier HMAS Melbourne in Fremantle inspired me to pursue a career as an aviator. I started my military flying training in 1985, a dream come true.
After five years flying the Sea King helicopter in the anti-submarine role I ended up flying Army Aviation. During those years I spent time in Timor and the Solomon Islands. The BlackHawk was a fantastic helicopter to fly in the service of our country. I finally resigned from the ADF after 31 years of service.
I now call Bundaberg home and specifically moved there for this job. On my next birthday, I will turn 60. I can't believe it. I am still looking for adventure and loving life!
Why did you become a LifeFlight pilot?
It was a natural progression, I guess for someone who was in the military for so long I just liked that kind of role. As a citizen of this country, military life was perfect for me with the adventure and the unknown, but I couldn't stay in the ADF forever.
The closest thing to the ADF in the civilian world, in my profession as an aviator, is police or rescue work. I enjoy the dynamic of the unknown; that's my character, my style, and this is the type of role where I can continue doing that.
Tell us a little about LifeFlight?
LifeFlight is an organisation that started as a surf rescue and search-and-rescue service. The organisation has expanded in size and capability over its 40-year history. We provide rapid response airlifts to injured or ill patients and transport them to hospital.
LifeFlight is also a charity that relies on help from the community to fund our service. This means that we can stay in the air and continue to assist those in need.
What are some of the characteristics of the helicopter and what type of equipment does it carry?
The Bundaberg-based helicopter carries rescue and advanced medical equipment and can get to nearly any place where medical assistance or a rescue is required. It is so versatile and can be taken straight to the scene.
The police, ambulance and firefighters are usually the first responders; we are called in if a higher level of clinical care is needed. We can bring in the Queensland Ambulance Service (QAS) Critical Care Paramedic and any emergency staff that are required. Time is paramount to get the patient to hospital for further treatment.
As a pilot, part of my role is to ensure that the helicopter is ready to be launched at any time and that I bring the crew and anyone that flies with us safely home again.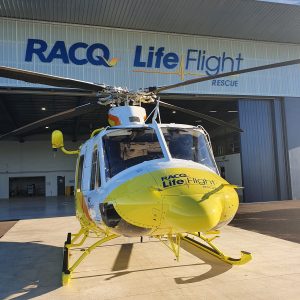 Have you done any rescues on the Fraser Coast?
We get call outs to Fraser Island quite a lot, especially in the holiday season. We often get tasked for marine stings; Irukandji, and box jellyfish stings can cause people a lot of grief.
Fraser Island is fairly remote, so when people go there, they need to plan for any eventuality and know what the next step is if they get into a spot of trouble. We are often tasked to respond when people crash their cars, which is often because of poor driving techniques or foolish behaviours on sand and not understanding the dangers.
Then there are general illnesses. Some people go to Fraser with preconditions and are a long way from help if something goes wrong.
Tell us a little about the integral part the medical staff play as part of LifeFlight?
The Bundaberg chopper typically carries a pilot, a specialist aircrewman who runs the mission equipment and a Queensland Ambulance Service (QAS) flight paramedic. Our primary role is to get the medical crew to and from the scene, wherever that may be, at any time of the day or night, sometimes negotiating the extremes of the weather.
Have you experienced any scary moments?
For me, as a pilot, I enjoy doing this kind of stuff. I like being on the edge with that element of adrenaline. I always say, "the darker the night, the worse the weather, the better I like it", but there is prudence to this. It is my responsibility to ensure that I bring the aircraft back home safely.
The heart rate goes up when we are operating at sea or conducting hoisting, especially at night. We don't take unnecessary risks in anything that we do. We identify the hazards for every mission, assess the risks and manage it well to achieve a safe outcome. We are well equipped and regularly undergo high levels of training to safely manage all situations.
Have you ever worked over Christmas, if so tell me a little about the experience?
All the time. I have been predominantly single all my life and never created a family. Even in the military years, I always volunteered to work during the holiday periods so those with families could go home.
What would you like the public to know over the holiday period, any safety message?
I would like everyone to think seriously about the risk that they may be taking by lighting that campfire or getting behind the wheel of a car. Think about and understand the consequences if something goes wrong: before it goes wrong. Be aware and manage the risk so you all stay safe. It doesn't mean you stop doing the things you love or having fun and enjoying yourself; after all, that's what life is about, but do it safely.
How does a successful rescue feel?
It is great when you know that you have contributed to a good outcome for a patient. It could be a 12-month-old baby or an 80-year-old. If you can create a better result for that person for whatever reason, it is amazingly satisfying. That is why we do it. We all feel very privileged to have the opportunity to provide this service. Most of us in this business are like that. We don't mind getting up at two in the morning to do a good deed.
If you would like to support the wonderful work that LifeFlight do go to www.LifeFlight.org.au
All photos have been supplied by RACQ LifeFlight Rescue