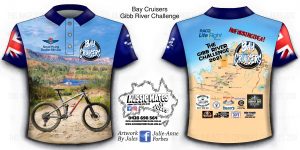 A few weeks ago, I met five wonderful ladies looking for adventure and wanting to make a difference at the same time. Come May, they will be taking on their biggest challenge yet, the Gibb River Challenge. Kim Parnell, Editor.
Tell us a little about the Gibb River Challenge 2021?
The Gibb Challenge is an enormous 660km long charity bike ride situated in the Kimberley's Western Australia. It consists of red bull dust, corrugated gravel, croc-infested river crossings and plenty of undulating uphill climbs. With the real possibility of being chased by the infamous Micky bulls, dodging oversized freight trucks and anything else the Aussie outback can throw at you.
Introduce us to your team and give us a little background about each member?
Team Bay Cruisers consist of five ladies aged between 30 to 50.
Keiran Baxter, 30 – I am a wife and a mother of two young girls and the team's youngest. I am doing this to push myself out of my comfort zone and prove to myself, my girls, and others that you can achieve anything when you put your mind to it. We are looking forward to the adventure of a lifetime, seeing some more of our amazing country, and making new memories and friends along the way.
Leonie Burns 50 – I am the one who came up with this crazy idea, I am a mum of four and a Nanna of five. As a wife, mum and Nanna always looking after everyone else, I decided I needed to challenge myself and help fantastic charities along the way. After travelling through the Kimberley's a few years ago, this area is my favourite part of Australia.
I am looking forward to taking family and friends on this trip of a lifetime.
Tina Karlish 41- I am married with two children and live in Hervey Bay. I am a retail store manager. Leonie asked me if I was interested in taking on the Gibb with her, and I jumped at the opportunity! Then I realised I hadn't ridden a pushbike since I was sixteen! This is a once in a lifetime experience, and I can't wait to see one of the most beautiful parts of Australia! May can't come quick enough!
Paige Wake 39 – I am a retail store manager who lives in Dalby, Qld. I love adventure and the great outdoors and received an invitation from Paul and Tina. I am thrilled to be supporting such a worthy cause. Bring on the Gibb.
Vicki Rogers 43 – I am the teaching principal of a small school just west of Rockhampton and needed to get fit, I love a challenge. I was encouraged to join up by long-time friends Paul and Tina. I am looking forward to sharing this trip with my husband Jason and two children, Lannah and Dean. My husband and I spent time working cattle in the Kimberly's and loved this part of Australia. We can't wait to take our children back there. My husband Jason has used RACQ LifeFlight Rescue on numerous occasions, and it is a very worthwhile charity. My motto in life is, "I can, I Will", end of story.
What brought you all together to do this?
Leonie had seen this event in action a couple of years ago and wanted to give it a go. After mentioning it to a couple of the girls they jumped straight on board, our Gibb experience started then and there. None of the girls have ever done anything like this, but we are all eager, excited, and ready to tick it off our bucket lists. We aren't alone though; each member has their family coming along for the ride. It's going to be a trip we will never forget.
Tell us a little about what you are expecting along the way?
There will be red dust, gravel, lots of hills, maybe some crocs. Temperatures will range from 19 – 33 degrees. On our travels we will be passing through Imintji Aboriginal community, Mount Elizabeth Station, Ellenbrae station, Home Valley Station and last but not least, El Questro Station, so we are super excited.
What kind of training goes into preparing for an event like this?
Lots of peddling, whether on a stationary exercise bike or our mountain bikes out on the road we are clocking up the km's plus some Pilates and gym work to mix things up. As this ride is 660km in just five days on a mountain bike, we all need to be able to ride as a team or tackle it Gibb solo when some legs might be a little tired. This is a test for all five riders, but we are all determined to finish this once in a lifetime ride.
You have a fundraiser coming up in February, tell us about it?
Together with Ingenia Holidays Hervey Bay, we are hosting a BIG Fundraising Campout Weekend being held on the 19 – 21 Feb 2021. This event is about raising as much money as we can while having a great time. This is a family-friendly event and will consist of live music, BBQ night, woodfired pizzas, Hawaiian night dress up with prizes for best dressed on the Saturday night, raffles, auctions, family fun, face painting, lawn games and plenty of laughs. Discount accommodation and camping sites will be available when you mention Bay Cruisers Big Campout when booking with Ingenia Holidays Hervey Bay on 07 4125 1103.
How much are you hoping to raise, and where does the money go?
We want to support charities in both remote and local communities who provide medical assistance.
Our goal is to raise $10,000 for Royal Flying Doctors, and we are hoping to match that amount for RACQ LifeFight. All money raised at our upcoming February campout and raffles will be going to RACQ LifeFlight Rescue.
Both of these charities are run on community donations, and some of our team and sponsors have directly used these services. It is a way of giving thanks back to them for the amazing work that they do.
How can people donate or sponsor the ride?
To support our endeavour, you can do so by going to our MyCause fundraising page, https://www.mycause.com.au/page/241529/bay-cruisers