An active life
By Kim Parnell –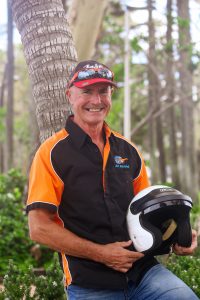 Simon Boss -Walker grew up in Hobart, Tasmania and moved to Sydney when he was twenty years old. By his own admission, Simon said that he did not do well at school. "I struggled at school as I didn't have any direction, and I didn't know what I wanted to do.
"But then later on in life I worked out that I really wanted to be a teacher. So, I dedicated my activities towards that goal and went to Uni instead of partying with the boys".
At twenty-seven years of age, Simon took himself off to college to train to become a teacher. "Surprisingly, I won an academic prize when I was in college for academia, of course, that was quite a shock to my parents at the time", said Simon.
After teaching in the private system in NSW in the 80's a move to Queensland followed. After a short period of country service, Simon found himself as principal of Pialba State School. The role lasted for twelve years before he was promoted to Kawungan State School before retiring in 2017.
"I had a very close affinity with kids and found that I got on well with them. I certainly had some fun with them over the years.
"Looking back though, becoming a principal, was not even a thought at the time. As a kid leaving school, if someone had of said to me that I would end up as a school principal I would have laughed in their face. I really didn't think I had the capacity to be something like that. I proved myself wrong in the end".
Simon is also a keen cyclist who bought his first bike to ride around the block to stay fit. It didn't take long though for cycling to take over. Simon has been riding and racing bikes for thirty-five years.
"I think I am almost at the end of the racing part though; I can't afford to knock myself around anymore".
A few years ago, Simon had a serious accident on his bike and broke a hip, but he wasn't out of action for too long as he was very aggressive with his physiotherapy.
Simon is a competitor at heart and loves his cars. As a race car driver, he gets to live his dream.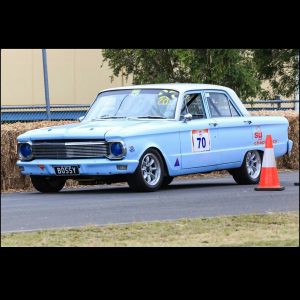 "My old man worked for BP Australia as a motor racing rep. We would get to go to all of the races and meet people who were sponsored, so I would get to sit in all of their racing cars as a very small child.
"My dad always had the BP racing logo on the window of our car, so in memory of him, I always have the same logo on the sides of the race cars".
In the late '90s, Simon bought an old Falcon cruiser to do up. He then attended a historic motor racing event and saw all of the old cars racing that he had seen as a kid and later as a young adult. The passion for motorsport never really went away. After many years working as a teacher and then a principal, Simon finally was able to get back to the track and has been competing and racing for the last ten years in historic motorsport.
"We have a little team called XP Racing currently, but the name will change shortly to Bossy Motorsport to better reflect who we are and what we do.
"We now have two cars; the 1965 XP Falcon and we have just purchased the ex Andrew Fisher Jesus Racing BF Falcon utility. The ute is still in Sydney and having the old signage removed and a new wrap done", Simon said.
The team is now looking for sponsors who would like to come on board and share all of the excitement and the thrill of racing. The ute is a very high-profile vehicle that has won many races over the years, and the racing calendar is starting to fill up for the year ahead.
Andrew Fisher drives for Jesus Racing that has a charity called Life Choices Foundation attached to it. Simon is a board member and supports Andrew on the speaking circuit as he talks to school students about making wise life choices and being proactive in life. The Life Choices Foundation sticker will be on the car as will another of Simon's passions in the form of Scripture Union school chaplaincy.
"I Love Hervey Bay have come on board and will be on the car. I have a strong affiliation with the Garland family because three of Robert's brothers are into motorsport, so I am delighted to have them with us".
Life has been good for Simon, but it has not always been smooth sailing. Life has had many twists and turns as it always invariably does, including a marriage break up that was very tough. Eventually, Simon met his partner Dawnie, who became his wife last year.
"We definitely have common interests, being cycling, motorsport and caravans, and we enjoy spending time together". Simon and Dawn are inseparable as they support each other in their sporting and professional lives.
Simon may be retired but continues to live a very busy life. With caravan shows for Latitude 25, Acting Principal work from time to time, motorsport racing, cycling, triathlons and beautiful grandchildren. In fact, life couldn't get any better.
If you are interested in sponsoring a great motor racing team, contact Simon at bossy@bigpond.net.au