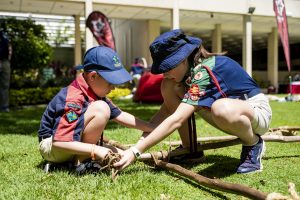 From birth Derek Edwin Lenard Lawton and his siblings, of which Derek is the oldest, were given three surnames since this was what his dad had decided, this was how it was. He was born in London in 1941 during the Blitz that took place in the Battle of Britain.
At eleven years of age, Derek and his family packed up and moved to Australia as so many had before them. The family lived at Moggill near Ipswich which at the time had a two-teacher school. Derek says, "Dad tried to start a scout group there. He had met Robert Baden-Powell in Palestine, as it was then, in about 1936 or 1937. Dad was in the British army at the time.
"But due to no telephones and no transport, it was near impossible".
Having a dad interested in scouting created Derek's lifelong interest in scouting and all that the movement stands for.
Eventually, Derek went off to do his scout leadership training and became an assistant scout leader in Darra, Brisbane at the age of eighteen. Round about the same time he received the call up for national service and joined the regular army.
During his twenty-two years in the army, Derek spent six years at Canungra and became the scout leader there while living on the beautiful Tambourine Mountain.
After two years of working long hours, and with no time for scouts, Derek went to Melbourne and lived in Frankston where he once again got involved as a senior leader, this time with the Sea Scouts.
A stint in Singapore followed, and some scouting with the ANZUK group ensued. The group was made up of countries such as Australia, New Zealand, and the United Kingdom.
Derek says, "It was a great time, probably the best time in scouting that I have ever had. While there, I did an eight-day course to do my wood badge, a very important badge for a leader to work towards.
"I have scouted on the whole East Coast of Australia and have lots of fond memories.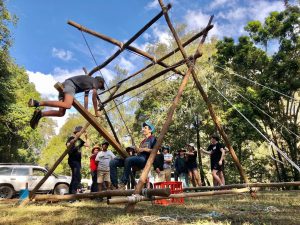 "Scouting has changed enormously, but I think it has changed for the better. We have some of the most dynamic scouting groups here in Queensland", said Derek.
"The programs have improved too. Now kids can do activities like caving, powerboating, and cross-country bike riding.
The words 'Boy Scouts' has disappeared as we now welcome girls into scouts as well".
Scouting can be very rewarding. Being able to contribute by sharing knowledge and skills such as Derek possesses from years of experience and passing on that knowledge to the next generation is very important.
Derek says, "I also get to share my values, I am not talking about Christian values but the values of being honest, not swearing and cursing, and treating people with respect.
"These are the sorts of values that we would like our scouts to have and the values that I like to pass on".
Putting on the uniform gives Derek a sense of purpose that he looks forward to. He identifies more in uniform than in civilian clothing.
"They say, 'the clothes maketh the man' when I am in scout uniform or my old army uniform, I feel like that's me, that's who I am, a uniformed leader. I honestly wouldn't know what to do with myself if I gave it away".
After being called into Ministry, Derek became a Minister after completing three years at bible school.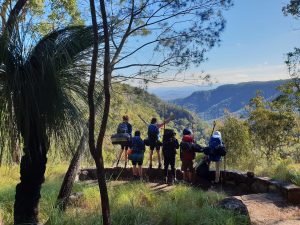 Derek has also spent time as a District Leader, the Assistant Regional Commissioner, and the District Commissioner while living in Maryborough, a role that he held for nine years.
"I then became Scout Chaplain for the Fraser Coast District, since then I have been involved as the leader in charge with the Hervey Bay Sea Scouts, and also with Pialba Scouts and Craignish Scouts.
"My actual role is Chaplain to the Fraser Coast District, a position that I am very proud of.
"I am also the chaplain to the National Servicemen in Hervey Bay".
Looking back, Derek acknowledges that he has enjoyed a life of service to his country, to the church, to the community and to the people by selflessly giving to others. This has given him a deep satisfaction, a purpose, and a great feeling of self-worth.
Derek currently lives in Hervey Bay and has been married to his wife Margo for thirty-seven years. You may also find him on the golf course with his brother as this is the only sport that he gets to enjoy.
Recently Derek celebrated his eightieth birthday and was thrown a surprise party at Pialba Scout group in Hervey Bay, complete with a cake. He was absolutely blown away by the gesture.
On age, Derek says, "I feel like I am fifty, I don't feel eighty. I know chronologically I am eighty, but I guess mentally, and emotionally I feel much younger, that is how I try to live my life.
"I don't sit here thinking, "Oh, now your eighty, where's the walking stick", Instead I think, let's do it. Age is just a number after all.
"I have achieved more than I ever dreamt that I would achieve. I never thought I would have the opportunities to help people like I have had, let alone reaching eighty years of age".
To find out more about scouting in Queensland go to www.scoutsqld.com.au.
Photos by Scouts Qld
Featured Image of Derek by Kim Parnell