Written, Produced & Directed by Paul Hayman –
For over 40 years, an Iconic Building sat high on top of Bowen Hills overlooking Brisbane. A venue that could hold over 5,000 people and that was, in Australia, an integral part of the most defining decades of popular music. From before the birth of Rock'n'Roll to the post-punk 'New Wave' movement.
From the 1940's to the early 80's, Cloudland Ballroom played host to a multitude of National and International acts. The building was the Social Hub of not only Brisbane. It attracted regular partygoers from Regional areas throughout QLD, NSW and beyond.
The overnight demolition of Cloudland Ballroom in 1982 stunned not only the local residents but people from all corners of the globe who had attended the venue during its lifetime.
The culmination of a decade of Research and Development, Cloudland the Musical is a story filled with drama and controversy. If there was ever a Musical to be written based on real events, this is it. After all, Cloudland played host to many of the Music Icons that other Musicals have been written about!
With a stunning cast of over 30 world-class Actors, Musicians and Dancers, exquisitely choreographed by professional Choreographer & Dancer Kylie Wall, Cloudland the Musical is a visual feast.
Each song has been carefully selected from the vast array of Australian and International bands that played at this venue.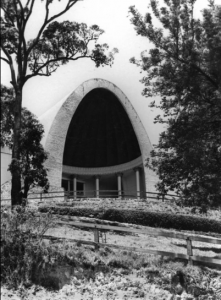 Featuring the music of The Bee Gees, Buddy Holly, Dragon, The Angels, Jerry Lee Lewis, UB40, Cold Chisel, Johnny O'Keefe, Midnight Oil, Australian Crawl, Normie Rowe, Mental as Anything, Bill Haley, The Stray Cats, Split Enz and more. The score comprises predominantly Australian songs, which have been specially arranged for the band in this production.
Cloudland the Musical, is the story of how this Iconic venue impacted the youth of Queensland and beyond for over 5 decades. Cloudland was no ordinary venue, and this is definitely no ordinary Musical! The use of 21st Century technology and masterfully created digital images bring to life this important part of the rise of the Australian Music scene.
This is Australia's Greatest Musical, based on real events!
'Cloudland the Musical' is supported by the Queensland Government through Arts Queensland.
Black and white photos added by Kim Parnell and credited to the State Library of Queensland
Cover photo credited to Paul Hayman.