The new water play area and all-abilities playground at Anzac Park in Maryborough will be named 'SplashSide'.
At its meeting today (Wednesday 28 April 2021), Fraser Coast Regional Council considered a community engagement report on the proposed naming of the soon-to-be completed new water playground at Anzac Park.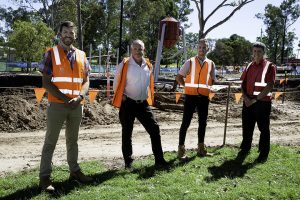 Cr Daniel Sanderson said he expected the new facility would be loved by both current and future generations, and Council undertook a consultation process earlier this year to give the community a say in what it would be named.
"Anzac Park is a popular outdoor space in Maryborough and 'SplashSide' will make it an even more attractive place to visit," he said.
"The new facility is expected to be completed by June and will include a range of features such as sensory wall, inclusive orbit element, a spoon full of sugar discharge bucket, a trampoline, waterfall, crystal fountains and a hammock.
"Other features will include stream jets, a roller slide, cosmic cannons, spray jets, sugar cane spray poles, a new shelter with a barbecue, and improved amenities."
Cr Paul Truscott said Maryborough was famous for its links to Mary Poppins author P.L. Travers and the new water playground would incorporate elements of the story with the spoon full of sugar bucket and rainbow pathways.
"Council received more than 100 submissions received via its Engagement Hub website and over 100 informal comments on its Facebook page suggesting names for the new facility, with the top three themes being 'water', 'Mary Poppins' and the 'Anzac legacy'," he said.
"Council has decided to name the new Maryborough playground 'SplashSide' in line with the major theme of water, suggestions put forward by a number of local residents and to be consistent with the PortSide, WetSide, SkateSide and AdventureSide facilities.
"We thank everyone for their ideas and suggestions and look forwarding to seeing the community enjoying 'SplashSide' after it is finished in coming months."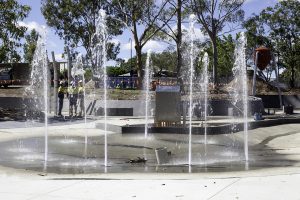 The Water Play and All Abilities Playground is a joint initiative of Fraser Coast Regional Council and the Queensland Government, which has provided $3 million through the COVID Works for Queensland program to ensure the project could be completed all at once, rather than in stages.
Member for Maryborough Bruce Saunders said he was excited the waterpark was one step closer to being finished.
"This is a fantastic project that will bring our community together and deliver jobs when we need it the most," Mr Saunders said.
"By officially naming it 'SplashSide' we're one step closer to opening it.
"Building facilities such as the water play area and all abilities park are part of the Palaszczuk Government's ongoing plan for economic recovery.
"It is fantastic that the Works for Queensland program has been able to ensure that the community can continue to use and enjoy these facilities."
Article & Photos submitted by Fraser Coast Regional Council