-Written by Stuart Taylor-
"I think I am having a heart attack".
These are the chilling words that Angela Scott said to her husband Ross over the phone as she sat in the lounge room at their home in Hervey Bay in 2012. Ross had been in Sydney for the last two months and felt completely helpless other than to say, "You need to go to hospital."
As Angela arrived at the Hervey Bay Hospital her chest felt heavy, her breath was shallow, and she was struggling to breathe. The staff at the hospital responded immediately
and performed a series of tests. It made no sense to her, she was young, healthy and had no history of any heart condition. After all the tests were completed, the doctor told her it was not a heart attack. Angela recalls, "It was a relief but then I was confused why I was feeling this way."
The doctor then asked a question that completely caught Angela off guard, "He looked at me seriously and asked me if I was having thoughts of suicide. I was completely shocked by the question. I had no thoughts of suicide and told the doctor this."
What Angela Scott was experiencing in her lounge room was anxiety. She was having a panic attack and had no idea that it could manifest in such a physical and real way.
Angela grew up in Sydney. Her father worked for a large interior fit out company, working on projects such as Parliament House, the Queen Victoria Building, High Court and National Library. As a young child, Angela had the opportunity to watch these projects transform, and it is where she developed a passion for building.
Entering secondary school, Angela decided she wanted to be an architect. Her father advised her against it, warning Angela that she would likely become a draftsperson in an architect firm with little money or opportunity. When Angela left school, she made the decision to work in banking and then travel.
In 2000, after travelling to the Whitsundays and working on a cruise boat, Angela fell in love with the ocean. She chased that passion and studied marine science, completing her bachelor in 2004. It was a busy period as she studied full time, got married to Ross in 2002, gave birth to their daughter Seairra in 2003 and their son Tae in 2004. The young family then decided to move to Hervey Bay.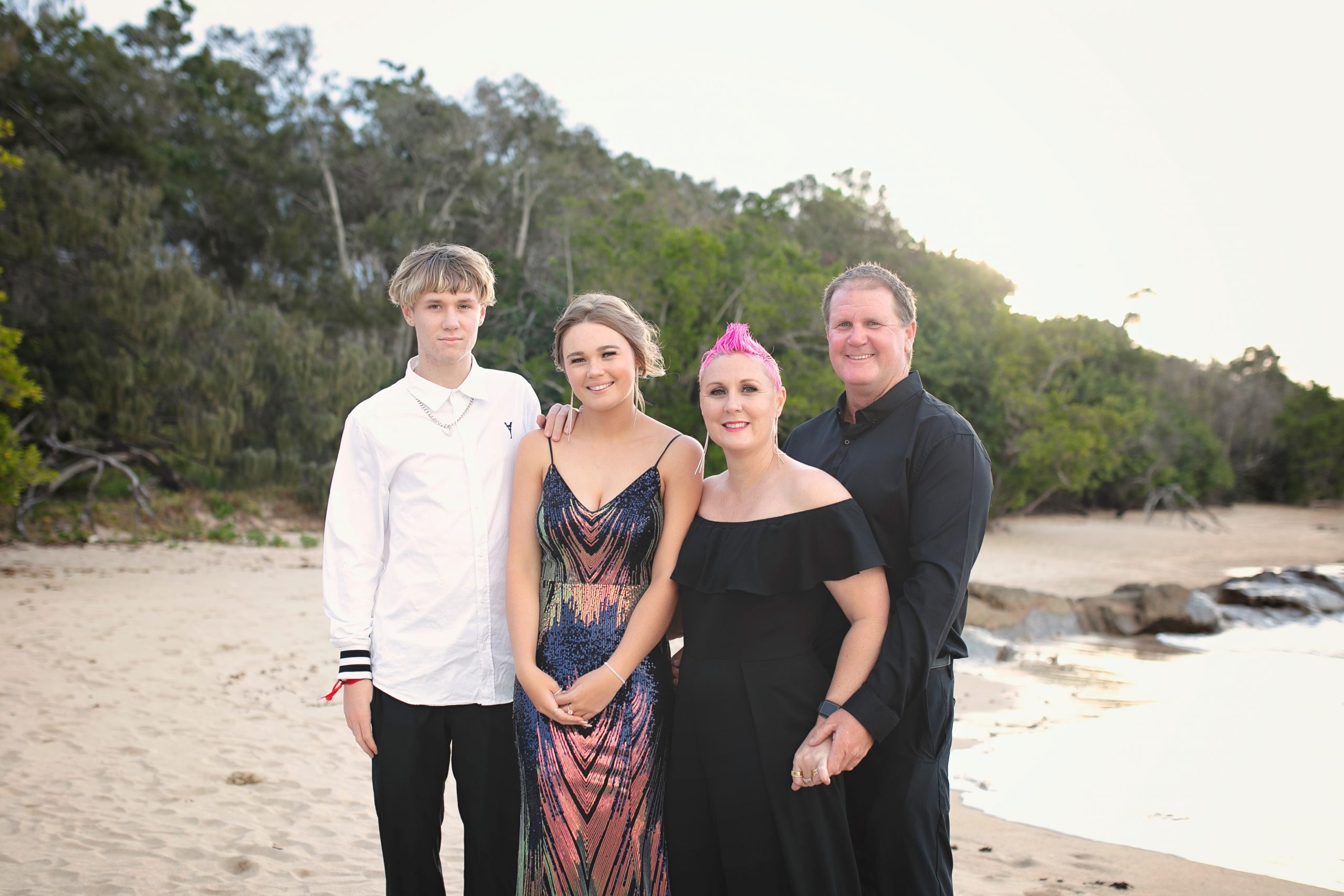 Angela and Ross purchased land in Hervey Bay and started their own development of ten town houses. Angela really enjoyed the experience, working with Ross in delivering their first building project. She taught herself to design homes, gaining invaluable experience in the building industry. It was a success and the momentum and motivation led them to establish a building company in Hervey Bay. In 2009 they started designing and building houses for clients. The timing could not have been worse, as this was also the same time Australia, and the World were crippled by the global financial crisis.
Despite the challenges, the very first house they built was recognised in the 2010 Sunshine Coast and Wide Bay building awards, where they won the custom-built home category. Angela remembers calling her father and telling him the great news. "He was so proud. But I think he held some regret about discouraging me from studying architecture. Yet, if I had studied architecture, I may not have met Ross, had our two children or moved to Hervey Bay."
The building industry was one of the hardest industries impacted by the global financial crisis. Angela and Ross considered how to best navigate this difficult time for their business, as house construction had declined across Australia. In 2012 they decided to sell their display home and build a showroom. But this changed their equity with the bank, meaning they could not use the loan to fund the showroom. To add to the pressure, the Australian Tax Office decided to conduct an audit, imposing greater time and financial burden on the new business. "It was bang, bang, bang! One thing after another."
Added pressures culminated in Angela experiencing her first panic attack, finding herself in Hervey Bay Hospital and being asked if she had thoughts of suicide. Angela reflects, "I have always been fairly laid back. So, I started to wonder what caused this to happen. It was clear these stresses were having a greater impact on me than I realised."
Angela and Ross worked as partners and navigated the challenging times faced by many businesses. They have grown their business and now operate a successful custom home building company, Bungalow. During this journey, Angela became more aware of the things that can have a negative impact on family-owned building businesses. "It was hard to see families struggle under the pressure. They could build beautiful homes but had limited understanding of marketing, customer service and cash flow. This causes a great deal of stress."
Angela has taken her passion for the building industry, knowledge of business development, and understanding of family-owned businesses, and turned it into a vibrant mentoring program – Designher. Angela provides support for women in the building industry, empowering them to appreciate their value. "The building industry is male-dominated, and many people refer to women in the building industry as the wife. But they are much more than that. If a husband-and-wife business is going to be successful, it needs to be a partnership".
As part of her commitment to improving customer experience in the building industry, Angela launched a podcast called Builders Torque, which provides education to builders on building better businesses. "We have been through a lot in the last ten years, and I am excited to share what we have learnt in our journey. Along the way, I hope to help improve mental health within our industry because the unmanaged stress really does destroy a lot of family relationships".
Reflecting on her journey, Angela had this advice for anyone confronting stress and anxiety in their life. "Nothing is that bad that you can't overcome it."
You can find more about Angela Scott on her Facebook page at www.fb.com/Ange.Scott.13 or search for Builders Torque on Apple Podcast.