– Dunga Derby by Rally for a Cause –
You'll never meet a more caring, gentle, beautiful, community-minded man than Damien Matheson. Tall, strong, strapping, and sometimes a bit of a softie.
As a resident of Hervey Bay for 17 years, Damien moved to Sunny Qld for better weather and a better lifestyle, starting his own business, Aura Residential, shortly after arriving.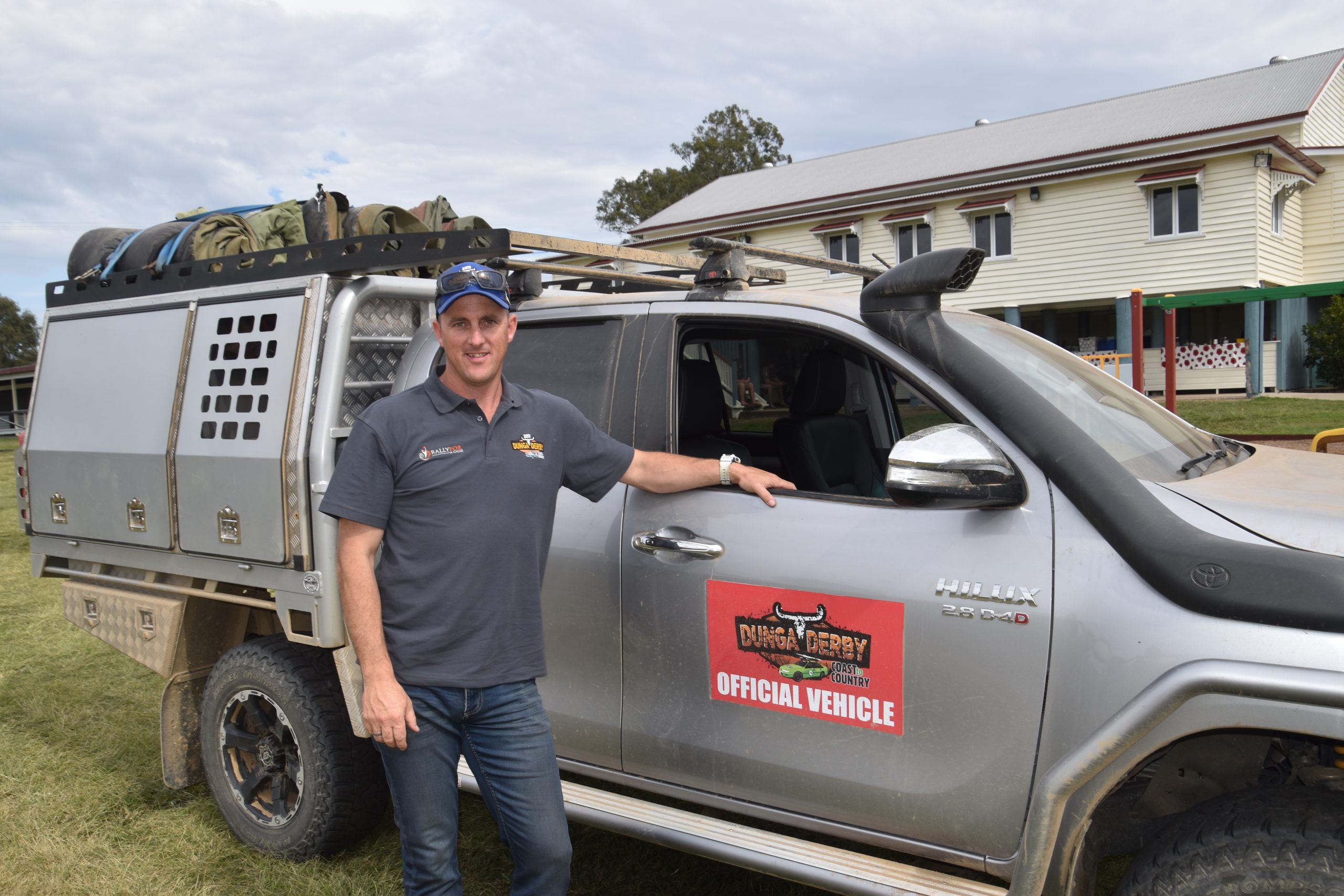 Damo (as the Dunga family so lovingly refers to him as) spends his spare time not only supporting Dunga but, together with his wife and 4 kids, heavily involved in the local sporting community through AFL, Netball, and Touch Football.
Damo has been involved with the Dunga Derby since its inception when he joined the likes of Mick Irwin, Dave Darmody, and Jason Wiegmink over a few beers to chat about ways they could help mates in the local community whose families were struggling through health issues.
After a discussion about getting some mates together in some 'rough' vehicles for a 3-day drive around to raise money, the first Dunga Derby had 32 cars involved and raised over $130,000.00, certainly surprising everyone with how amazingly supportive the local business community were, but ever so grateful.
Now heading into its 9th year, the Dunga Derby has beyond exceeded where Damo thought it would end up; now, with a Board, Committee members, and over 400 participants over the weekend the Dunga Derby is held. Raising OVER 2 million dollars and helping 198 individuals or families across the Fraser Coast and Sunshine Coast, Damo is still as supportive and as enthusiastic as he felt from day one.
Damo has many fond memories over the years, recalling moments from the first few years of 'winging it', of things that could be better, and all they've learnt along the way together. Damo especially feels passionate about the fact that all money raised throughout the Dunga Derby stays within the local communities. Damien contributes across all levels of the organisation, the Dunga Derby Executive Committee, the Dunga Derby working group, the route committee, and a Director with Rally for a Cause and a Member with Rally for a Cause, his generosity of time just keeps coming and he is often found driving the countryside on his weekends for the route planning as well.
Damo and his family love living on the Fraser Coast due to the good weather, great lifestyle, and supportive community spirit they love being a part of. They love being able to meet the recipients from the funds raised by the event and look forward to seeing it continue to grow for years to come.
Damo will, once again, jump in amongst the teams and do his bit to raise the much-needed funds towards Rally for Cause for 2023.