Fraser Coast – prepare to break records and experience the joy as the highly anticipated Mobility Scooter and Wheelchair Convoy is back!
Mayor George Seymour said he was thrilled to announce that the eagerly awaited 2023 event would be held on Saturday, 9 September, with the Convoy starting at Scarness Park in Hervey Bay.
"The Mobility Scooter and Wheelchair Convoy is a fantastic occasion that showcases the importance of mobility scooters and wheelchairs in enhancing people's lives," he said.
"We are proud to host this event as it fosters a sense of unity and inclusivity in our community.
"One of the key aims of this event is to raise awareness about the safe use of mobility scooters and wheelchairs on footpaths across the Fraser Coast region.
"We want to promote a safe and welcoming environment for all mobility users, ensuring they can move around freely and confidently in our beautiful city."
The educational event comes with a competitive twist as the region fights to beat our Australian record of more than 170 mobility vehicle users in convoy.
In the spirit of festivity, participants are encouraged to unleash their creativity and deck out their vehicles with colourful decorations.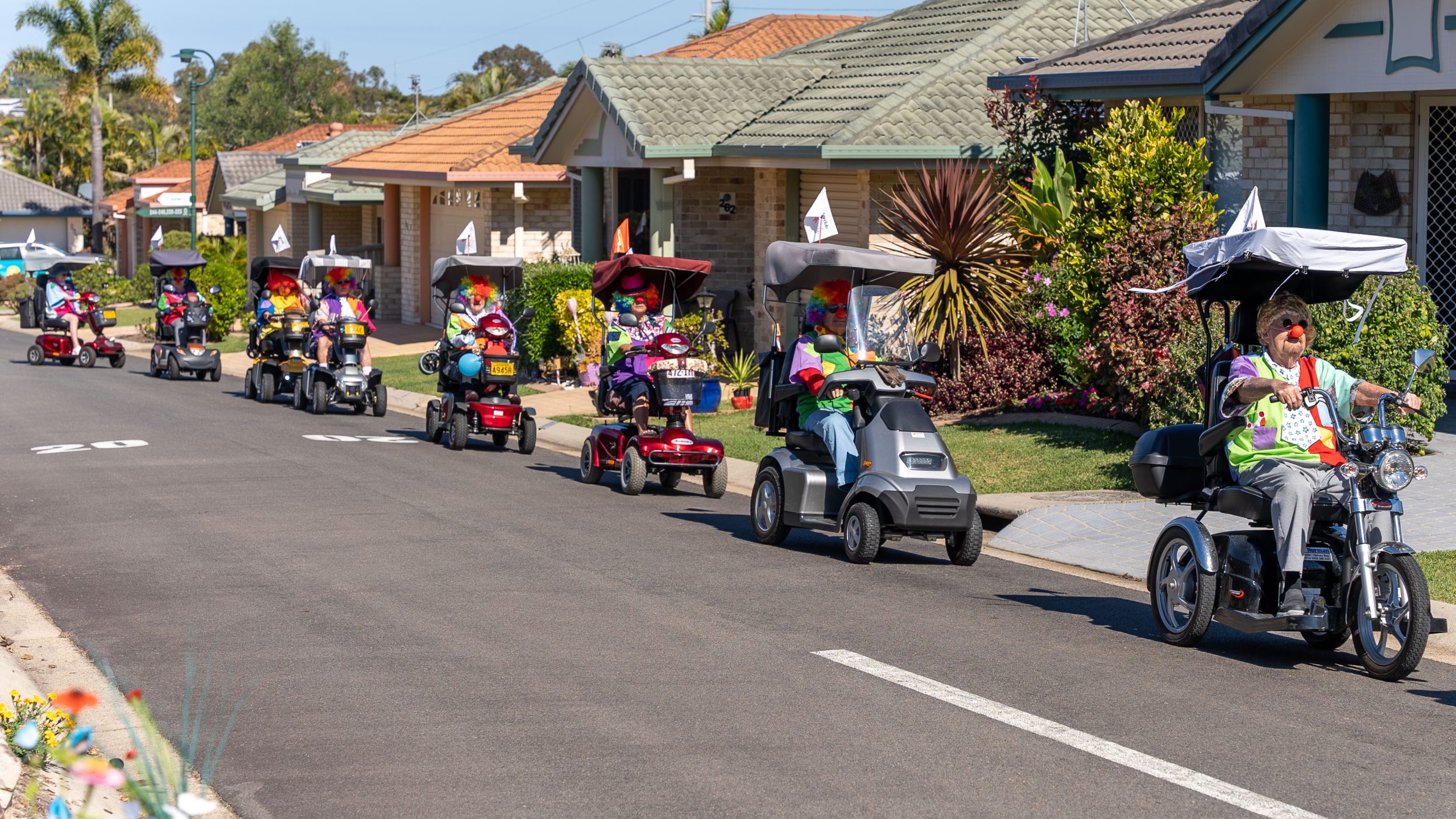 Fraser Coast Regional Council Seniors Liaison Officer Julie de Waard said the event was not just about promoting safety.
"It's a bright and jubilant occasion that brings the community together," she said.
"We always see amazing displays of creativity, and it's exciting to see how participants express themselves through their decorated vehicles and fun hats."
The Fraser Shores 1 Mobility Scooter Club has become a crowd favourite among the many groups that attend the convoy.
This year, they are taking their enthusiasm to a whole new level by adorning their scooters with an impressive array of 37 clown costumes.
Mayor George Seymour applauded their efforts.
"It's fantastic to see groups like the Fraser Shores 1 Mobility Scooter Club embracing the spirit of the event and bringing such joy to the convoy with their fantastic costumes," he said.
After the ride, participants can relish in free entertainment and delicious food at Scarness Park.
Registrations only open from 8 am on Saturday, 2 September, but interested participants can also get a copy of the registration form in advance by contacting the Halcro Street Community Centre at 4194 2441.
Council is also calling for anyone willing to volunteer on the day to contact Halcro Street Community Centre on 4194 2441.
Article & Photos submitted by Fraser Coast Regional Council