By Kylie Nitz –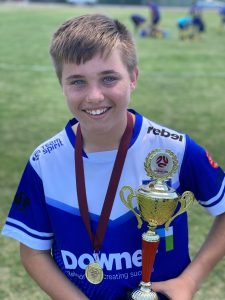 OMG! Can you believe this year is all but days away from finishing?
I'm torn a little both ways, I can't wait to see it end but then am starting to feel that this new normal kinda ain't so bad. It has created a space where positive stories can be found all around us. For this last column in 2020 let's focus on some of the hidden achievers in our community, the youth. The ones that have had their education and routines upended, the ones who have been unsettled in their learning and had a tremendous increased level of stress levels, but still gave it their all to achieve great things despite the challenges thrown at them.
Young Tahlia from Mopotc Art, has been a wonderful advocate for the arts each Thursday at the Maryborough Markets and is now set to broaden her skill set by tutoring beginner Macrame classes at MADCOTA Community Hub.
Maryborough's only gymnastics club "GymSports" set up zoom classes which were attended by Gymnasts from as young as 6, and then all came together for an Easter Team Night where lots of fun was had by all. The LiveStream saw best hairstyle, best dressed, dance work out videos and guess the eggs in the jar competitions. They even held an online Easter Egg hunt. Now that's creative!
Maryborough State High School students have experienced great sporting achievements both inside school sports and outside including MSHS Rugby 7's team gaining entry into their first statewide competition; Kirraelle McCullogh, Georgia Mitchell, Chloe Beardmore and Sierra Pursey being selected to compete in Queensland Indoor Hockey Championships for U15's; MSHS Rowing Crew competing and winning Gold, Silver and Bronze in the "Head Of Brisbane" event and in turn reinvigorating youth interest in this historically significant sport.
The success of Fraser Coast Talent Time was largely due to the talent and professionalism of the Hospitality and the Stage and Production students which shone a light on St Mary's College student Kate Bensted who came out first place winner for her performance, making herself $1000 richer.
It doesn't stop there for St Mary's. Their students have also stood out during these times with Ava Smith and Skyla Birch coming in as finalists in the Premiers Coding Challenge. Nicholas Corsetti and Hayden McIntyre were selected for the trial Launch of the Digital License App and entered the launch competition. Both winning with their Digital App promotional videos. Lauren Winnett was accepted in the QUT Vice-Chancellors STEM camp, which is for high achieving year 11 students. Sky Neale, Cammie Burridge and Kate Bensted won the USC Math Modelling competition which is open to all schools in south east Queensland. Blake Kroning won the 2019 Hockey Queensland Association's Umpire of the Year award. Danielle Lourigan travelled to Townsville representing Wide Bay School Sport in basketball. Nathan Hagan made State Representation in Music at the State Honours Ensemble playing the Clarinet and Chloe-Lee Mahony entered the "Take The Mic" competition making it into the top 8 finalists out of 25 competitors nationwide.
MSHS Football Academy and Sunbury Football Club U13 players Jacob Darnell, Hudson Nitz and Jai Richter had a smashing season with their team to take out 2020 Fraser Coast Minor Premiers and Grand Final Winners, registering an undefeated season with a whopping 77 goals with Hudson conceding only 11 across the entire season. They then moved on to win Wide Bay Championship Cup facing off against Across The Waves. A further five Maryborough State High students and Doonvilla Football U16's players Tom, Liam, Xavier, Logan and Jake and their team also excelled with a mammoth 88 goals scored across the season finishing up a huge 40 points ahead in the leader ladder also winning the Wide Bay Championship Cup.
There is a lot to be celebrated in 2020 with our youth rising up and doing the Maryborough Community proud.