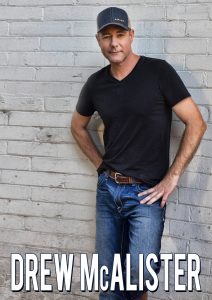 Musician Drew McAlister has impacted the national music scene over the years with five number one hits on the Country Music Charts, an Aria Award nomination and four Golden Guitar Awards, to name but a few of his many accolades. The singer, songwriter, has also spent time on the Fraser Coast both writing and performing and will be heading back to our region this month.
It was an absolute pleasure to interview Drew recently. He is warm, engaging, and humble, and still very much that boy from the bush. Kim Parnell, Editor.
Tell us a little about your early years?
I had a very sparse musical upbringing as our household wasn't that musical. Pretty much everyone in my family is tone-deaf, but both my grandmothers could sing; they had beautiful voices. I began singing at the age of seven. I was a boy soprano and sung in church and choirs.
Who were some of your musical inspirations growing up?
When I was a kid, I listened to old school country stuff like Slim Dusty and Ray Kernaghan. As I got older, I morphed into Australian Rock and then came back to Country and listened to musicians like Tim McGraw and Vince Gill.
Do you have any special memories from your time on the Fraser Coast?
Plenty, one of my great mates, Rob Mackay, lives up that way. He has a house over on Fraser Island. On several occasions, I have spent time there with Mike Carr and Troy Kemp, writing songs. We have written some great material on those trips, and I have very fond memories.
I met Rob years and years ago; he bought me out of my publishing deal with EMI, which was fantastic.
Did you know what you were getting into music-wise?
No, you don't really know what you are getting into. I went from band to band then got my first record deal when I was twenty-seven, quite late in the game. When that fell through, I got a publishing deal that took me all over the world writing songs. I then joined the duo 'McAlister Kemp', Troy and I did four albums together. After the split, I signed back with the ABC and did a couple of albums with them. You can never plan this stuff; you just hope that it all works out. I am proud that I have been able to make a living all this time doing what I love and raising my two girls.
Where do you call home?
I am based in NSW, in the Blue Mountains; we moved here ten years ago when my daughter was three months old. It is a great place to raise children.
Tell us a little about Jesus Christ Superstar in the Rounds?
I was only nineteen when I toured with the show along with John Farnham, Kate Ceberano and Jon Stevens; I did 86 shows. I was just a kid from the bush; I still had gum leaves on me and no idea what I was getting into; it was an incredible experience. I also did a Johnny Cash tribute show called The Highwaymen. Then not too long ago, we did an album with Adam Brand called the Outlaw. It is filled with some great songs. We toured that all the way around Australia and did 36 shows.
If you could perform with any artist, who would it be and why?
It would probably be Vince Gill; he is such an all-rounder. He is an incredible musician, singer, and songwriter. I think he has one of the best voices around. Like the Frank Sinatra of Country music, I think. If I could perform with him, that would be quite cool.
My next album is going to be more root-based with no particular genre. It will be full of songs that I love and a little more stripped back, a little more acoustic.
To find out where Drew McAlister will be performing, go to www.drewmcalistermusic.com.