Liam Bland
– Written by Stuart Taylor
At the age of four, Liam Bland remembers the excitement of visiting his Dad at work. His father, Andrew Bland has been the Big Breakfast Show radio host on Triple M for over 20 years. "I remember Dad taking me into the studio and actually putting me on air with him and co-host Scott Gilmore. He would ask me how I was feeling about school and if I liked my teachers".
Those early years had an impact on Liam as he reflects how his Dad would show him the studio, "I thought it was amazing that I could suggest whatever song I liked, and Dad could find it and have it blasting over the speakers. I thought that was pretty special".
Growing up in Hervey Bay and attending Fraser Coast Anglican College, Liam knew that he wanted to follow in his Dad's footsteps. He got involved in acting, but as he grew older his passion shifted to sports and sport commentary. "I love football. I was captivated by commentators like Peter Drury and thought that is something I would love to do. Commentators are either former professional athletes or they are journalists. So, I decided that when I finished school, I would apply to study journalism at university".
After completing his senior year, Liam commenced his degree in journalism at the University of the Sunshine Coast. Still living in Hervey Bay, he made weekly trips to the Sunshine Coast campus, packing all his classes into three days. He would then return home to Hervey Bay where he had a part-time job. "I learnt that I had to be self-driven and quickly developed a mindset where I needed to go above and beyond. I worked really hard and the more work I did, the more passionate I became about journalism".
In 2019 Liam was in his second year of university when he went to a Football Federation Australia Cup match between Sunbury and KSS Jets, recording the game and using the footage for an assignment. Sunbury went on to win the game to advance in the FFA Cup and Liam got great footage for his assignment. However, it was an unlikely meeting on the sideline of the game that would result in the first big step of his journalism career.
While recording the game, Liam met and got talking to Connor Rose, the sports journalist for 7News Wide Bay. "I understood the importance of connecting with people and was eager to learn from people with experience". Liam and Connor bumped into each other at different sporting events over the next six months and Liam made the effort to speak with Connor every chance he got. Liam's genuine and engaging personality clearly impressed Connor.
While completing his third year of university, Liam received a phone call from his lecturer. "He rang and told me that Connor from 7News Wide Bay wanted my contact details to discuss a possible job opportunity. I spoke to Connor and he said that he received a transfer from the Wide Bay, and they were looking for a new sports reporter. He asked me to come in for work experience. I turned up, gave it my best effort and then they offered me the job".
When he first started with 7News Liam doubted whether he could keep up with the workload while still finishing his last year of university. "I knew I had to work really hard if I was going to succeed at both. And that is exactly what I did". Liam also got advice from his Dad who had now spent over two decades as a radio presenter. "Dad told me to be myself, be authentic, to find my own voice and use it. I think that was great advice".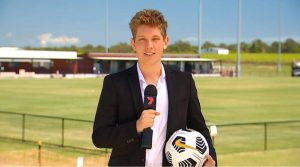 In April 2021, aged 20, Liam Bland will be approaching his first year as a sports journalist, when he officially graduates from the University of the Sunshine Coast with a Bachelor of Communications – Journalism. Liam's incredible life journey has only just begun, and his advice is simple, "if you really want something, work for it".
Cover photo by Kim Parnell
Article photos supplied