A pedestrian bridge in Howard will be named after the builder of the original structure and the woodchop arena at the Maryborough Showgrounds will be named after a prominent local axeman and chainsaw racer.
Cr James Hansen said the pedestrian bridge that crosses Maria Creek in Howard will be named 'Stoon and Ollie Thorburn Pedestrian Bridge'.
"Stoon Thorburn and his wife Ollie moved to Howard in the 1950s, with Stoon shortly after building two pedestrian bridges over Maria Creek that were separate from the two narrow vehicle bridges on Steley and Williams streets," he said.
"He often repaired the bridges after floods and kept Council informed of any required maintenance of the stormwater system.
"Council made the decision to name the pedestrian bridge after Stoon and Ollie after receiving a submission and petition from the Howard community, as well as a subsequent community consultation process."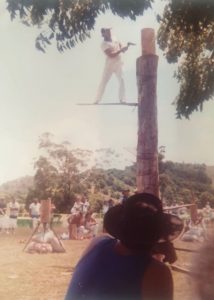 Cr Denis Chapman said the woodchop arena at the Maryborough Showgrounds and Equestrian Centre Park would be named after axeman and chainsaw racer Noel Hansen, with new signage to be unveiled at the upcoming Fraser Coast Show next month.
"Noel was involved with the show for more than 40 years," Cr Chapman said.
"He was a beef and cane farmer at Dundathu, a fencing contractor and built cattle yards so he knew timber and how to swing an axe and use a chainsaw.
"Noel started competing in the Maryborough Show woodchopping classes and then moved up to chainsaw racing. He then became a steward; supplied the blocks for the axe and chainsaw competitions as well as cleaning up after events.
"Noel competed at many shows around the state and locally he also supported the Torbanlea Races and was involved in the planning and running of the woodchopping events.
"The community feedback for this proposal was overwhelmingly supportive and it's fitting that Council has made this decision now ahead of the 2021 Fraser Coast Agriculture Show on 20 and 21 May."
Article and photos submitted by Fraser Coast Regional Council