The Brooweena War Memorial Bridge was officially opened on 21 May 1921 by local clergyman the Rev Hardingham. Mrs A Brown, whose son was among the fallen, performed the unveiling of the honour roll. Trooper William Charles Brown, from the Australian Army Light Horse Regiment, died from Malaria on November 3, 1918, in Egypt.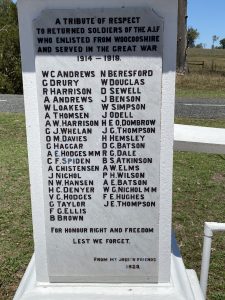 The bridge was designed and funded by Lawrence Stevens Smith of Mount Joseph Station and is located beside the Brooweena Woolooga Road opposite the Mount Joseph Homestead. It is dedicated to the local servicemen who enlisted in World War One, both those that fell and those that returned. Although the Smiths lost no sons in the First World War, they still wished to make a commemorative gesture. Upon completion of the bridge, it was handed over to the Woocoo Shire Council.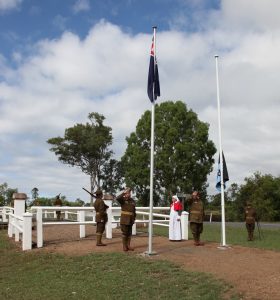 The bridge remained in use for many years but was closed to traffic on June 16th, 1972, when a new structure was built. A cairn was built in commemoration to explain the significance of the bridge.
The Memorial Bridge Centenary will commemorate 100 years since Mr Laurence Smith, from Mount Joseph, officially handed over the Memorial Bridge to Woocoo Shire Council Chairman Mr George Mant.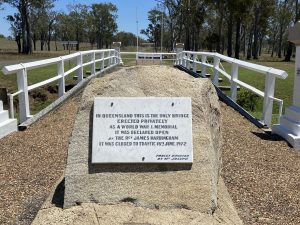 Mr Bruce Smith, a grandson of Mr Laurence Smith, will lead the service, and the 9th Battalion Ceremonial Guard Inc will form a Guard of Honour. A light picnic lunch will be provided.
In Queensland, this is the only bridge erected privately as a World War I. Memorial.
Memorial Bridge Centenary
Saturday, May 22
10.30am
Brooweena Woolooga Road
RSVP to Gail on 4129 9262
or email at brooweenamuseum@gmail.com
The bridge was added to the Queensland Heritage Register on 21 October 1992.
_______________________________________________________________________
THE MEMORIAL BRIDGE, MOUNT JOSEPH
In dappled shade of stately gums,
It stands, hard by a split-rail fence.
A tribute from fond hearts who cared,
That men have fought in freedom's proud defence.
Hand hewn from timbers tough and true,
Memorial to those fighting men,
Who heard the call – and went.
Some sleep afar; too few came back again.
In chiselled letters, clear and stark,
It's plaques their honoured names proclaim.
And voiceless on this country flat,
It speaks its wordless claim to fame.
Beside it, in the modern way,
A tar and concrete counterpart.
Efficient, brash, impersonal,
That has not grace nor heart.
Great poets sing of Poppy Fields,
Lone Pine, the fight at Vimy Ridge.
And coloured stones piled high on stone:
They have not seen this bridge.
Composed by GJ Cook – 8th May 1973.
Information and Images supplied by Brooweena Historical Village & Museum and the Queensland Heritage Register.