As told by Tatiana Samokhina –
This is a story about my Fraser Coast trip. Well, actually – the story is about Mitch. And the Fraser Coast trip too. But really, it's about Mitch.
I walk into the arrivals zone of the Hervey Bay airport and see reporters everywhere, with cameras and microphones. They take photos, ask questions, and people from FCTE hand out Fraser Coast bags with goodies. It's very busy at the airport and very noisy. It's the first direct flight from Sydney to Hervey Bay since 2009, after all. I already have fancy orange Jetstar sunnies hiding in my backpack. Let the adventure begin!
I live in Sydney. And I've never been to Hervey Bay before. I booked tickets as soon as Jetstar sent me an email saying they are opening a new direct route – Sydney/Hervey Bay. What an incredible opportunity!
My trip is well planned. I know which attractions I will visit, where I will have my breakfast on Thursday and Friday. I am going to Fraser Island for a day, and another day I am spending in Gympie. This leaves me with one full day in Hervey Bay.
I am a diligent tourist; I enjoy everything Hervey Bay has to offer:
I explore Botanic Gardens and go to the Aquarium – twice because people there are amazing and so friendly you just don't want to leave, and you can feed the turtles, and the fishies are so cute,
I walk along the Urangan Pier and say "Hi" to the wildlife I spot. Majestic eagles, cheeky pelicans, and even a friendly glossy dolphin jumping in the waves.
I visit the Historical Village Museum and walk around it with my jaws dropped down – I do not understand how I've never heard about this place before, it's incredible, it's fantastic, it should be on everyone's to-do list!
Fraser Island is as awesome as people say it is – yes, I saw dingoes! And the shipwreck! And Lake McKenzie's waters are as blue as in the pictures online. It's not just Photoshop. It's real.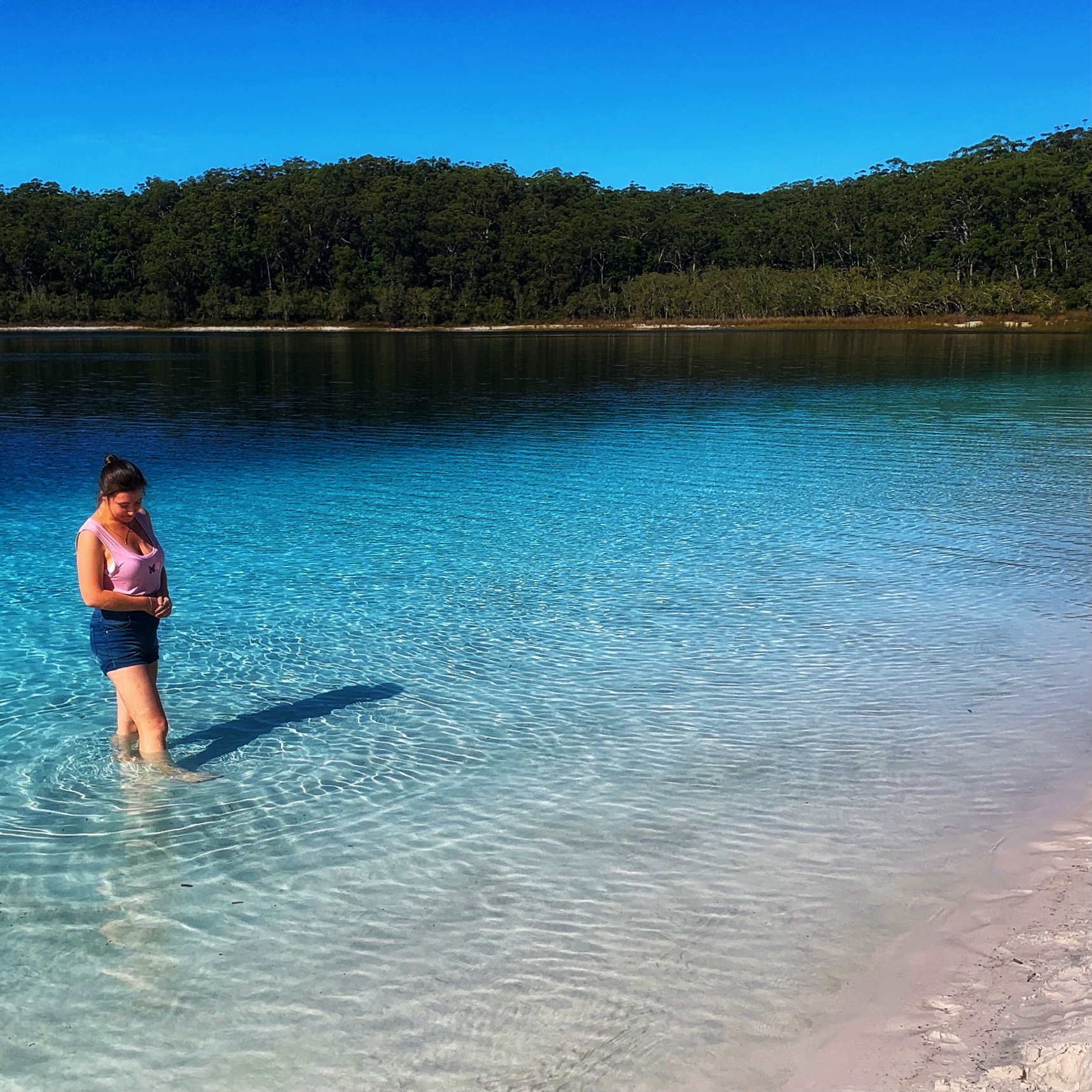 Now it's time to go to Gympie. My last major activity before I go back to Sydney to work.
I take a bus from Hervey Bay to Gympie at 5.50 am. I arrive in Gympie by 8.50 am. A quick coffee stop – and run towards the Mary Valley Rattler station in Gympie, a not-for-profit business run by volunteers – everyone is smiling, everyone is happy, and it's one of the sunniest days of my trip. I still have time before my bus back to Hervey, so I head to the Regional Gallery and then have a slow, lazy tea break in a local coffee shop.
Then, a bit upset the journey is nearly over (how fast!), I trudge back to the bus stop.
And that's where the real story starts.
I am at the bus stop next to Memorial Park. I check the screenshot with the location I was dropped off early morning, then recheck the ticket – and slowly but steadily start panicking. I am definitely at the bus stop I was dropped off at earlier, but I am not sure it's the right pick up location. In the email, it clearly states 'Gympie Bus Shelter at River Road'. I can't see the River road sign anywhere around me. I check the map on my smartphone, and it points to the shopping centre 15 minutes walk from where I am at the moment. I do a general online search, and Mr. Internet tells me that Gympie Bus Shelter at River Road is permanently closed. Ah?! I am getting worried.
I am getting so worried that I pick up the phone and call the bus provider customer care team – who else can I ask for help? They pick up the phone, and I explain the situation: I am at the bus stop next to Memorial Park where I was dropped off in the morning, but it's Reef Street and not River road, is it the right bus stop? The lady on the other end asks me if I came to Gympie with their bus in the morning, or maybe it was another bus? Of course, it was the same provider. I want to believe I am (still) sane. Well, the bus should have dropped you off at River Road, she says. But where is that? My phone says it's miles away. The lady doesn't know – she is not from Gympie, she is not from Queensland, and she is not familiar with the area. (Don't you have a map? – I think, but don't ask). No, apparently, she doesn't have a map. I tell her that online it says the Bus shelter is permanently closed. I bet she makes a face and rolls her eyes on the other end; I can feel it in her voice. Whatever, thanks for your assistance.
Since I can't get help over the phone, I look around to see if there's anyone there whom I can ask. And then I see him – a young gentleman with a big dog walking across the street. I rush to him from behind, and say "Sorry sir, are you local?" I don't even wait for his reply (silly) and continue – "Well, you have a dog, I would assume you are local… I am just looking for this bus stop (and I show him my phone screen), do you by any chance know where I can find it?" No, he doesn't know. He is not local. I cannot believe it. "Where are you trying to get to?" he asks me. "I am trying to find my bus to go back to Hervey Bay," I reply. "Well, I am going to Hervey Bay. You can join me if you want". I straighten.
I cannot believe this either. He turns around, and then I see two other men following him. He asks one of them whether he knows how to find the stop, but the (older) gentleman just shakes his head no and asks me where I am going. I explain it again – just looking for my bus back to Hervey Bay. "Well, we are going to Hervey Bay. You can come with us". I look at them and hesitate. Three men and a dog. Well, two men and a dog – the third gentleman has his own car and is not heading to Hervey Bay.
I think-think-think. What options do I have? I can stay at the bus stop where I was dropped off in the morning and hope it's the right stop and the bus will show up, or I risk missing the bus if it's the wrong stop. I can run up to River road – assuming my map is correct, and it's up there somewhere. Or I can go with them: two guys and a big dog. Random people I've never seen before.
I've never hitchhiked before. Ever.
And I will never tell my mum this story. Ever ever.
I choose to go with them.
I stay next to the car and wait patiently for them to organise everything. "You can sit at the back and pat the dog", the older gentleman tells me. "Oh no, I don't want to pat the dog", I reply quickly. "That's fine, then I can sit at the back and pat the dog!" Deal.
I go back to Hervey Bay from Gympie with Mitch – whom I stopped on the street, Georgie boy – the dog he was walking, and his dad. They came to Gympie from Hervey Bay to see Mitch's brother, who lives on the Sunshine Coast. To have a meal together in a pub and to pick up Georgie boy – he was moving from the Sunny Coast to Hervey Bay. What a move!
For one and a half hours, Mitch's dad is kissing the dog at the back, saying, "Georgie boy – you will be spoiled with love – kiss kiss kiss – oh, you're stinky Georgie boy, that's alright, we will take you to the carwash tomorrow – we will get you a collar – you can sleep with me on my bed – I already love you Georgie boy". Mitch and I both laugh together – I am at ease, relaxed, and enjoying my trip back to Hervey Bay. I am grateful Mitch calls me by my full (first) name (no one ever does, too lazy) and is attentive. He doesn't behave like a person who has just picked up a random girl in Gympie; he acts like a host. Makes sure I am comfortable. Not cold. Not too hot. And happy with my driver. I find it incredible.
I cannot believe this either.
The first person I stopped in Gympie – because I assumed he was local as he had a dog – lives in Hervey Bay and is now driving me back to Hervey Bay. Wasn't I lucky? I think I was.
He drops me off at my hotel. Door-to-door.
I tell him he saved my evening. He replies he is happy he could help.
Then I close the door behind me and go towards my hotel room.
I am going back to Sydney tomorrow and have to pack my bag.
I would love to thank Mitch, he is 30 years old, and he moved to Point Vernon about three weeks ago from Victoria. He lives with his dad, and now they have a dog – Georgie boy, that they picked up from the Sunshine Coast on Saturday, May 29.
Do you know them? Do you know anyone who knows them? Do you know anyone from Point Vernon who might potentially know them? If you do – please spread the word. Please tell them that Tatiana is much more grateful than she appeared to be back then on Saturday night. So very much grateful she couldn't express it properly. Please tell Mitch he's amazing.
Oh – and send my regards to Georgie boy. I hope he smells terrific after the car wash.
Thanks, Hervey Bay.
Tatiana