– Words by Andrew Ellis – Director of Australian Operations
Pacific Whale Foundation Eco-Adventures Australia –
About us
Pacific Whale Foundation is an international NGO and world pioneer in sustainable ecotourism. We have been working to protect the ocean and marine life since 1980 to protect a declining humpback whale population from global threats.
With the growing human and environmental threats, or stressors, facing our marine wildlife, this work has never been more important than now. Increasing stress from marine debris, bycatch, ship strikes, unsustainable tourism, and the effects of climate change all have considerable impact on the behaviour and survival of our sea creatures.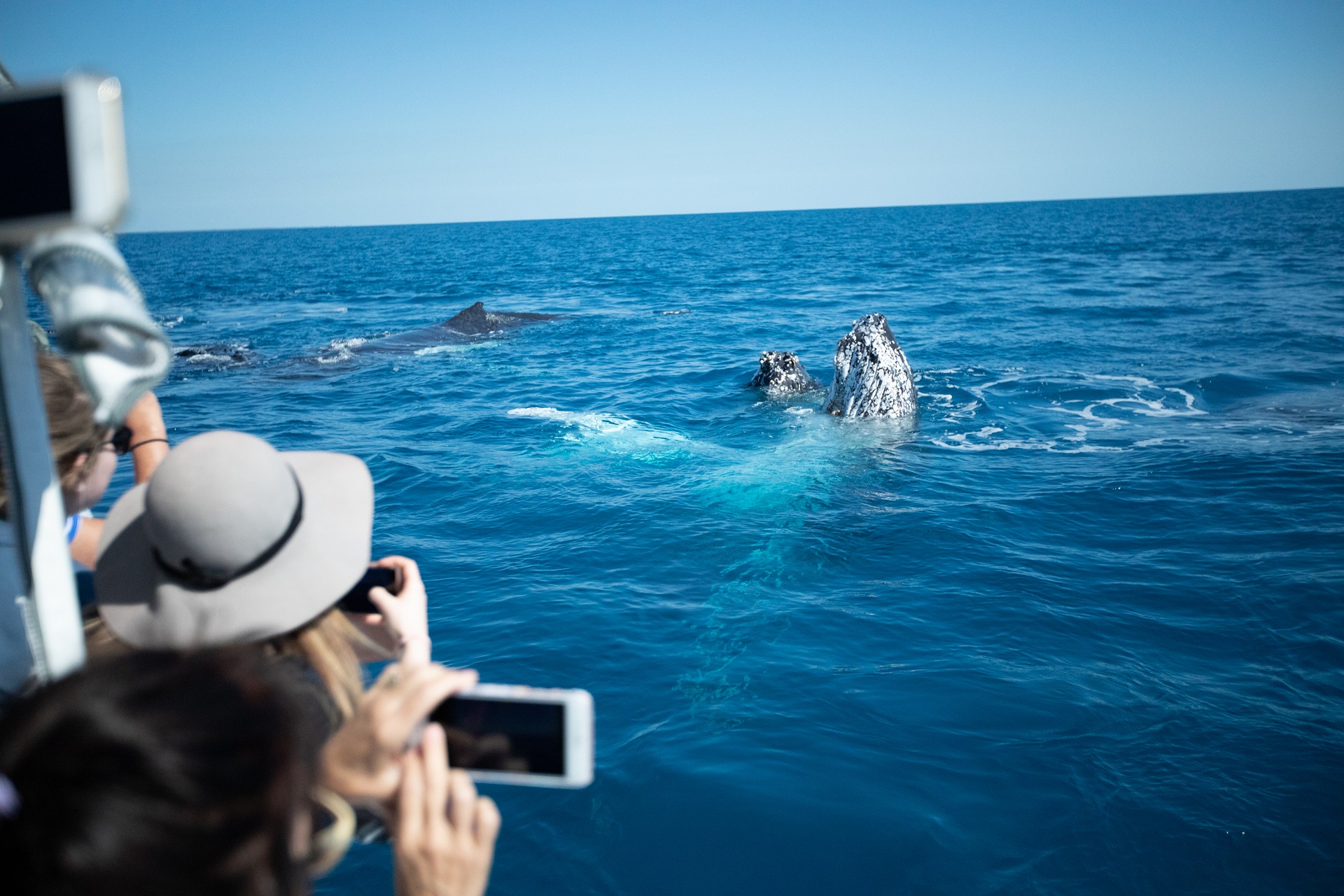 Our mission is to protect the oceans through science and advocacy and to inspire environmental stewardship. Our vision is to be the people's environmental organisation for the protection of the world's whales, dolphins, and other marine animals living wild in their natural habitat. We strive to share our love of whales and their ocean home through our research-based whale watching ecotours.
As a social enterprise, we use the profits from our cruises and retail sales to support whale and dolphin research, marine education for children, and ocean conservation programs in Australia and around the world.
Pacific Whale Foundation has been conducting research projects on whales and other Cetacea for 40 years, 35 of those in Hervey Bay. Having just completed the data collection for our 4-year swim with whales impact study, we move to the next stage in our research on the East Australian humpback whales. This season, our research team will be doing intensive body measurements using UAS (Drone) technology, particularly on Mother and Calf pods, enabling real-time body health checks and nursing rates of calves. We also will launch an abundance and distribution study on the three main types of dolphins found here in Hervey Bay.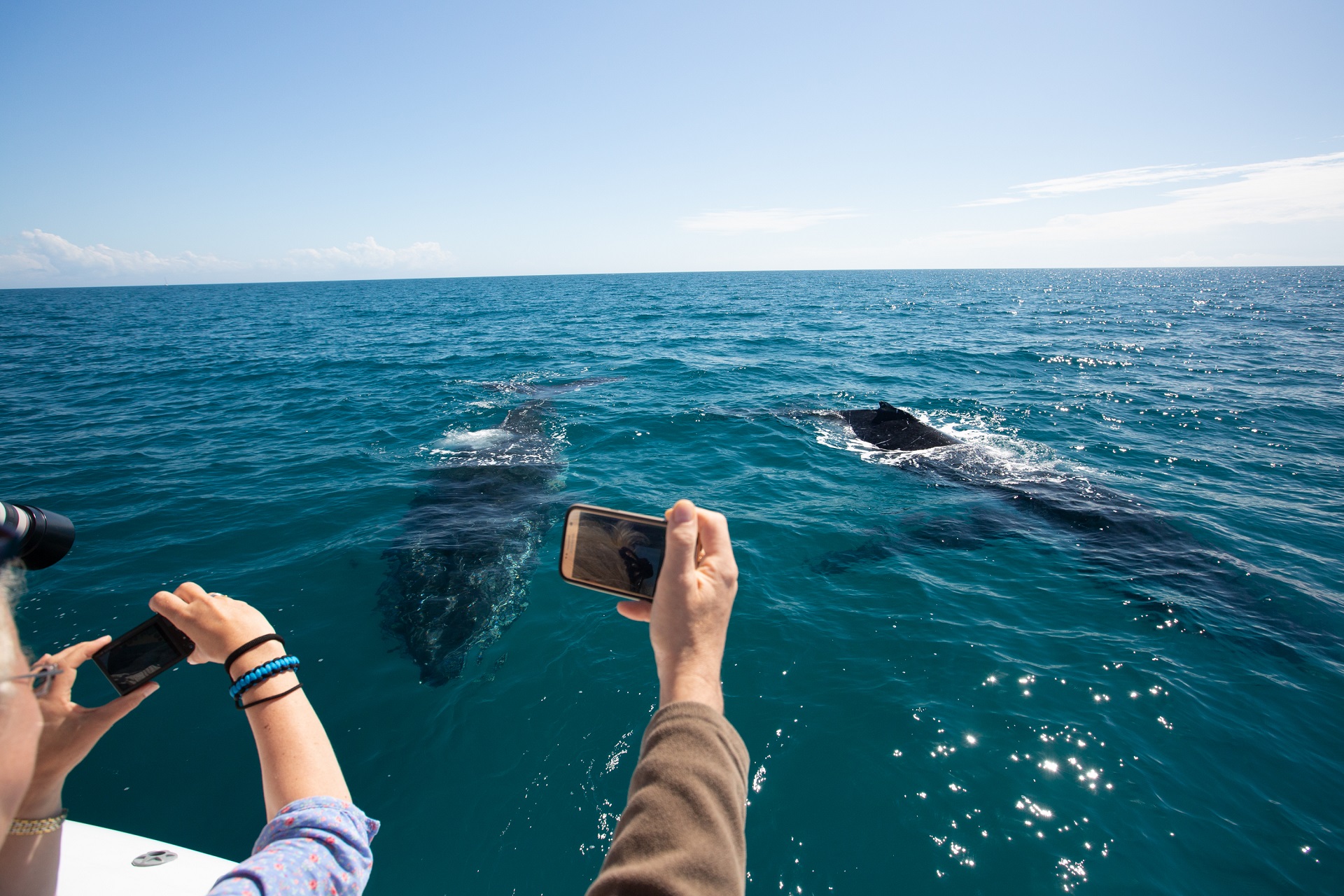 Hervey Bay's whale watch season
Hervey Bay's whale watch season runs from July through to October with thousands of humpback whales using the relatively calm and protected waters of the bay to rest and rejuvenate prior to their migration back to the feeding grounds in Antarctic waters. For our organisation this is the prime time where we can inspire others to become advocates for marine conservation.  A big believer in education through appreciation, we use this time to highlight the wonder of seeing the fifth largest animal in the sea, showing their natural behaviours in their natural environment. From watching whales comes caring, from caring comes change, and we challenge all our guests to each make those small changes in how they live that ultimately will save our marine environment and its inhabitants. 
Whilst our retail outlet and research base at Urangan Harbour is open year-round, our whale watch season is also when we gain the majority of our income through our commercial operations, allowing us to provide our community with education and conservation projects throughout the year. All profits from our cruises and retail sales go to these projects, enhancing knowledge from a young age and ensuring a sustainable future for our ocean.
Each day is different 
Hervey Bay offers great whale watching throughout our season. Come early to see the curious juveniles, come later to see mothers nurturing and teaching their calves.  Just to see an animal living naturally in its own environment is an incredible privilege. This is not a zoo or aquarium; these animals are not trained, just living life as they wish.  In our bay, we are lucky to see whales staying for a number of days. Rather than just providing an opportunity to watch whales as they migrate, swimming north or south, here they are simply 'hanging out', spending their days resting, mating, and looking after their newborns for a considerable period.  People ask what's the best month – we suggest and all we can suggest is coming numerous times throughout the season as each day is different, and we see something new and exciting every day on the water.
I still get as excited when I see the first breath from the first whale of the season as I did when I saw my first Hervey Bay pod thirty years ago. They truly are an inspiring sight, and it fills me with awe each and every time.
Our projects
With the restrictions put in place last year on travel and visits to schools, we struggled with completing our education and conservation programs so we spent the last 6 months putting together our Virtual Whale Watch program. Innovative and thoughtfully curated, Hervey Bay Virtual Whale Watch provides a window into our Great Sandy Marine Park, a heavily regulated, pristine ecological treasure adjacent to K'Gari that comprises two vital biospheres. Our self-guided, 1 hr session is designed to mimic an actual whale watch eco tour as closely as possible, with educational prompts and exercises to stimulate student engagement throughout the footage.
Final words
We are so excited as a community here in Hervey Bay to be able to showcase the beauty of watching whales.  As with any nature-based tourism opportunity, it is very important to choose your tour knowing that the company is not only operating professionally in a regulated environment but is ensuring that minimal impact and sustainability of our eco system is at the forefront of all operations.
We at Pacific Whale Foundation are proud to be a world leader in sustainable eco-tourism and committed to the future of our ocean environments. We work with governments, educational and scientific institutions, and NGO's around the world to better understand and mitigate the threats to our marine life.  We continue to learn more about our humpback whales, a population that was almost hunted to extinction, but now so fortunately well on the road to recovery.  Through science and research, we hope to provide our children and their children with an opportunity to experience the joy of seeing marine animals in their natural environment, whilst also ensuring that these animals live in the pristine marine wonderland they so surely deserve.
I look forward to seeing you on the water this year and trust that whale watching inspires you to learn more about these amazing creatures, and to love and enjoy the beauty nature has to offer.
Photos – Pacific Whale Foundation