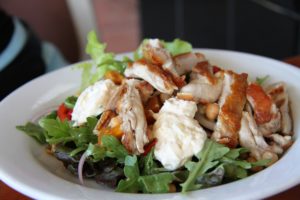 Who doesn't like a bit of history, and I got it in spades when I popped into the Federal Hotel to visit Owners, Gavin Chin and his wife Jessica. The hotel was built in 1884, by Architect Willoughby Powell, and retains all of its old-time charm. (and some of its ghosts), Gavin is the Chef and loves whipping up dishes in the kitchen.
What did you do before you became a Chef?
" I have always been a Chef. I have done a lot of different jobs within the industry, like running little Cafes, and Restaurants. But it wasn't until Maryborough that I ran a pub, I was more of a fine dining Cafe Chef and there wasn't very much of that around. Jessica is a teacher and was moved to the area in 2013, We liked Maryborough. And wanted to live here, I had worked in all of the pubs here in Maryborough, so we thought we would have at crack at one ourselves".
What is the most popular dish on the Federal Hotel's menu?
" The Halumi Salad, and the Southern-fried Chicken and Buttermilk Waffles, we have had these on the special board and haven't been able to take them off. We also make our own sauces like Sriracha Cream, for our waffles, it is a spicy cream. Going back to nose to tail we are seeing lots of Offal these days as well as sweetbreads and livers. We have found that there is really a good dining culture in Maryborough its Just taken us a little while to bring it out of the woodwork".
What would be the best way to sum up your menu?
" Modern Style Gastro, (meaning food). When pubs started they never sold food in hotels, the street vendors would be outside the hotel. People would come to drink then go out for food. Then someone had the bright idea to start cooking their own food and in England it became the Gastro Pub. It was basic, hardy but quality food, it was a good meal. Nothing to flashy, you won't find any micro herbs or anything. We make absolutely everything and take a lot of pride in what we do".
Do you use many local suppliers?

" As much as possible yes. Most of our fruit and vegetables are bought locally here in Maryborough. It is very hard not to buy a lot of stuff without buying bulk. We use Sugar Coast Seafood for all of our Seafood needs, and Greg's Quality Meats in Tinana".
What advice would you give a novice just starting out?

" Stop watching TV shows, it is nothing like it. It is very hard work, very hot and stressful at times, but it is also rewarding and addictive. I found hospitality in general is the industry where you don't have to conform to anything, you can be who you are. And you have all the avenues to express who you are through your food, through your personality, and through your service".
Tell us about your speciality craft beers?
" During the rise of Craft beer, so many fantastic craft breweries around the country have popped up. There are so many different flavours and styles. We have over 50 craft beers,Stone & Wood from Bryon Bay being one of them. We have started to sell some from the Bagara Brewery as well. Stone & Wood Pacific Ale is our most popular".
– Story by Kim Parnell –