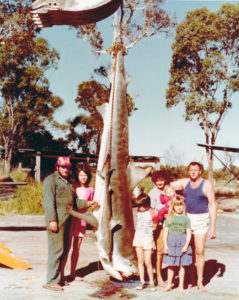 I remember so clearly as a child living at Point Vernon and how much my father, Bill Drury loved fishing. Back then net fishing was legal and when my dad came home from work along the Esplanade, at the high point of Point Vernon, and he saw a dark shadow in the water at full tide it usually meant a shoal of fish and it was all hands on deck for dad.
At that stage dad only had daughters so the older two had to help launch the boat with net on board, and he rowed around to where he had seen the shoal and net off a gutter to catch the fish as the tide went out. I remember one night after getting home we had pulled a stone fish aboard with the net, and were very lucky not to have made contact with its poisonous spines.
Dad caught some wonderful fish, salmon, big diamond scale mullet, and tailor and on many nights the kitchen table was piled high with fish. Dad often sold those lovely fresh fish by going door to door, and they were soon sold.
Lenny Rose had a boat hiring business at Gataker's Bay where the Restaurant is today, and people from far and wide hired a dingy from him for a day's fishing. If you did not own your own boat it was made from heavy bond-wood which weren't easy to launch or retrieve, plus the weight of the wet net and fish.  Eventually the old bond-wood boats were replaced with the modern fibreglass tinnies or aluminium, and moulded plastic luxurious boats of today.
Dad made most of his nets by using a bodkin and thread, and would sit for hours meticulously working to make the metres of netting required, and he even taught us girls the art of net making and we were allocated a length to complete each day after school, but we had to be careful to avoid any slip knots.  Regular daily fishing in those early days before outboard motors required rowing the boat with oars to get to your favourite fishing spots, and if the weather or a northerly suddenly sprung up it could take hours and a lot of painful muscles to get back to shore.
When the winter whiting came into the bay numerous boats hit the water and if you happen to find where they are biting, in no time the boats were so thick around you that casting out was difficult to avoid hitting other boats. So thick were the whiting you had several hooks on the line, and pulled them in two at a time. We caught 400 one day then had to go home and scale and fillet them.
Hand Lines were used and some with the line wound around a drink bottle, so very basic compared with today's fancy fishing rods, numerous lures, depth sounders and GPS systems, and the poor fish don't stand much of a chance. Also the most common bait used to catch whiting were yabbies and a common sight was people with their yabby pumps out on the sand flats at Gataker's Bay. Today there are so many fancy lures of all shapes, sizes and colours that it isn't even necessary to use bait.
Prominent land marks along the bay coastline were used by fisherman to fi nd a favourite fishing spot and the Radio Towers were the most used and the most popular.
Yes there are sharks in Hervey Bay, but there has only ever been one fatality back in the early 1900's. They usually stay out in the deep channel and island waters. My dad inherited his love of fishing from his mother, my brother and son are fishing fanatics, and many of the fifth generation of great, great grandchildren also follow the fishing tradition.
I sincerely hope Hervey Bay continues to give joy and fun to many families through fishing, camping and holidaying in this piece of paradise many of us call home.