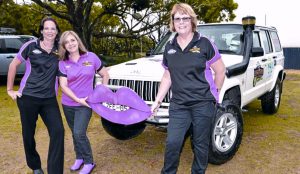 Tough Mudder events are proving that is just not kids who want to play in mud. This popular physical challenge has become a popular craze in Australia and now the Fraser Coast will have its own obstacle course to contend with. As part of the Katastrophy Wives team fundraising for the Dunga Derby 2017, the team has joined forces with the Australian Adventure Park in Burrum Heads and Kickass Obstacle Race to hold a Tuff Dunga.
Tuff Dunga will be held on Saturday 4th March and you can be assured it will not be a "clean race". In fact, there is no genuine racing or timing. It's about fun and the challenge of finishing the obstacle course all for a good cause. With 3 different events, don't be scared by the thought of physical exhaustion. All fitness levels can participate and water will be provided in many ways…….
Katastrophy Wives team member Kerry Spencer believes this event will become an annual lock in for the diary. "We wanted to raise some funds for Dunga Derby in a way that creates some of the enjoyment we gain from being involved with such a great event. Tuff Dunga just felt right from the minute we first discussed this and the community has been so supportive of the idea".
For those who want to make a weekend of it, camping packages have been made available that includes other novelty events, a lake fishing competition, entertainment and a movie for the kids. For more details and to register for tickets, visit the Katastrophy Wives Facebook page – FB.ME/KATASTROPHYWIVES.