Air Fraser Island is proudly into its 3rd generation of operation, and is one of the oldest tour operators on the Fraser Coast. Here is one groups account of their day with us: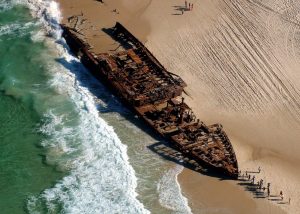 We arrive at the hanger of Air Fraser Island as the rain clears, and the soft amber glow of the sun embraces us. We know that it will be a beautiful day!.  The excitement and anticipation within the group are high, Our pilot emerges from the office and he immediately puts us all at ease as we squabble good-naturedly over who gets to sit next to the pilot.
As we tighten our seat belts, the plane comes to life as we hurtle down the runway and then lift off to start our next adventure. The view from above is amazing as we head over to Fraser Island. We keep an eye out for whales,dolphins and dingos as our pilot gives us a running commentary on the sights below us. We fly over Butterfly Lake, it truly is a magnificent sight as we start snapping away to get that perfect shot. The wreck of the Maheno from above looks spectacular as we move in to land gently on the beach.
Two gleaming white 4WD's  await us on the sand, as we are shown the  map of Fraser Island and the places of interest that we may like to see throughout the day. We run through a few safety procedures, then are told 'to enjoy the day' as the keys are handed over.
As we tighten our seatbelts once again this time in air-conditioned luxury,  we set out on the second half of our adventure. Central Station and Wanggoolba Creek is our first destination point, here we go for a walk through the rainforest on a beautiful board-walk. The trees are ancient and majestic and there is much wildlife.
Then it is time to head back to the 4WD's and visit Lake McKenzie. This a great place for swimming for all ages and is pristine, the sand is pure and so soft.
After all that swimming and exploring we are starving so head to Happy Valley Pub for a great meal and beverages on the cool deck. The day would not have been complete without a drive to Eli Creek and floating in the cool water as the current carries you down the creek.
With our adventure nearly over we head back to the plane where we are met once again by a familiar welcoming face as our pilot helps the weary travellers on-board for the trip home, knowing that the memories will last a lifetime.