– By Jenny Campbell –
The Hervey Bay Croquet Club is a vibrant and exciting club that is growing all the time. Our club has stood on its present location at 17 Totness Street, Torquay since 1983, and currently, we have thirty members. At our club, we play three codes of Croquet; Association, Ricochet and Golf Croquet. We have four courts on which to play that are maintained by very enthusiastic volunteers.
In June, from the 4th to the 6th, we are holding a three-day Golf Tournament here in Hervey Bay. This is our fourth such annual tournament. Each year, we see the competition grow, and the numbers of competitors increase.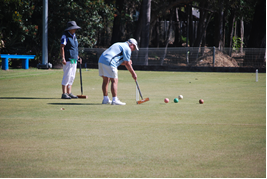 Competitors travel from all over Queensland, and there is often an interstate competitor or two who is either passing by or here to soak up the winter sun that wishes to compete in this great tournament. Croquet is a very mobile sport, and travellers are able to play at clubs throughout the country. Clubs provide the balls and always maintain mallets with which to play.
Golf Croquet is a fast game played over forty-five minutes. The game requires skill and clear thinking. The idea is to place balls in strategic positions to run hoops; it's likened to playing Pool on grass!
Golf Croquet is the forerunner to playing Ricochet and Association. All games offer both men and women equal status on the courts. It is a challenging and sometimes frustrating game that provides exercise for both the mind and body.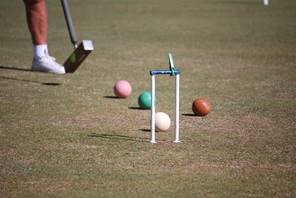 Hervey Bay also hosts a tournament in August, which is open to all who play Ricochet and Association. This tournament also offers stiff competition from competitors who travel to Hervey Bay from all over the state and some from interstate as well.
The tournament is open to spectators who are welcome at courtside, where seating is available. Coaching classes and Come and Try Days are advertised regularly, and anyone wishing to "have a go" at this great sport is encouraged to do so.
For more information contact Joan on 0407 372 458 or Jenny on 0417 334 227.