By Kim Parnell –
Well known motivational speaker Dean Clifford was born with Epidermolysis Bullosa (EB) and isn't afraid to talk about it. Every negative that has come his way has been turned into a positive. Dean both mentors and inspires us all to aim higher and to achieve our dreams. Kim Parnell
Dean requested that he share his story in his own words.
Epidermolysis Bullosa (EB) is a unique, multi-layered condition that affects each person differently and in varying degrees.
To put the condition in its most basic form, my skin doesn't have the same binding anchors to hold it together that the average person on the street would have. I still have the same layers of skin like everybody else, but the layers of skin will just sit and rub against each other, creating friction. This causes wounds to form underneath the surface. The condition affects the majority of my body in varying degrees.
Every part of your skin can be affected, even internally, as a skin membrane protects your internal organs. This can cause difficulty breathing and eating. Luckily, I only have it externally.
The skin on my feet is incredibly fragile. I have no memory of walking barefoot on grass as the grass is like razor blades on my feet, so they are always protected.
I can exercise and manage to live what I class as a very high standard of life, protecting those weak areas and using the stronger parts to my advantage.
My daily routine involves getting up hours before any meetings or appointments and going through the process of checking every inch of my skin for blisters or discolouration. I have to tend to these as quickly as possible before they worsen with ointments, creams, and bandages. I will also have to perform minor operations on myself to keep infection away. This may all sound unpleasant to talk about, but this is normal to me.
These days, my hands are becoming one of the worst affected areas because of the active lifestyle that I lead. For me typing on a computer keyboard would be more dangerous than lifting weights in the gym. Any repetitive motion, even picking up a glass the same way, will damage the skin.
EB is one of the worst diseases that the medical world has ever seen, the tagline within the EB community is #theworstdiseaseyouveneverheardof, and that is one hundred per cent accurate.
Kingaroy was where I was born, and I spent my childhood there. The community of Kingaroy helped look after me. It was such a great environment. I don't think I would have been alive if it wasn't for the community support.
When it came to school, I would sometimes have to get up in front of the classroom and explain my condition and that I wasn't to be feared. I would tell the other kids that if they shook my hand today, they wouldn't wake up tomorrow with skin like mine. People would comment, and kids can be cruel, but I would always try to turn it around and make light of the situation. Once they understood my skin or understood they could not make fun of me, there wasn't really an issue with bullying.
The most challenging period in my life would have to be when I was thirteen to eighteen, which is compounded when living with EB. I can remember kids my age learning to drive a car and thinking about life outside of school, sneaking out and going to parties. All the usual growing up experiences are drastically different when living with any severe disability or illness. I can remember depression and challenges on the mental health side of things. I am fortunate that I have always had family support, though.
Anyone that spends time with me knows that I don't focus on the bad stuff. It's all about focusing on what I can do and focusing on my strengths and abilities rather than the negative.
During my teens and into early adulthood, those around me thought I would make a great motivational speaker. By that stage, I had done quite a few fundraising events for people with EB, so I was already sharing bits about my life, but I honestly thought there was nothing interesting about me or my life. I was still young and felt that I needed to get out and experience the world, have some adventures, and get some life experience under me. It wasn't until about the age of twenty-four that I seriously thought about it. Maybe I could inspire people of my age that were struggling with different issues to achieve their goals and dreams.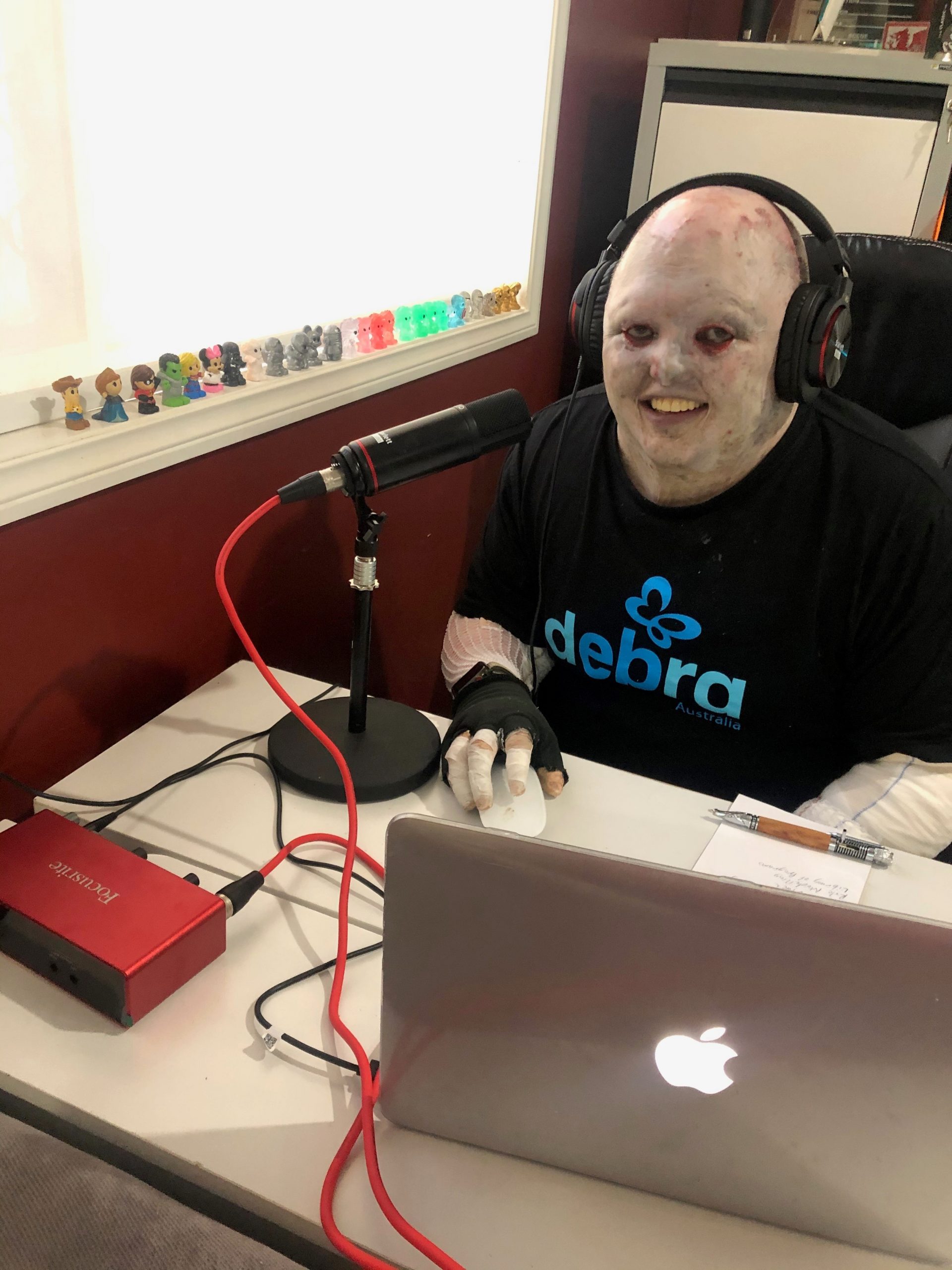 My first speech was in Kingaroy. Within twelve months, I was travelling around Australia and sharing my story.
At the time, I was invited to become the first Ambassador for the Disability Employment industry.
Getting invited to Prime Minister John Howard's office was a highlight. I spent over half an hour with the Prime Minister. We talked about everything from our love of rugby league to the different challenges I faced in employment and the community. I am proud of the work that I did over those ten years for disability and employment. In 2018 I was incredibly honoured to be inducted as the youngest person in the Australian Hall of Fame.
Every presentation that I give is a hundred per cent unique to the situation and the audience. It is an honest look at my life, the journey that I have been through, the highs and the lows, and the keys that I have used to survive and achieve what I think is a pretty amazing journey. Hopefully, everybody in the audience will pick up something from the experience.
I believe we changed a lot of things positively for many disabled people, more mainstream employment, access to equipment that is needed to make it easier for a business to employ somebody with high needs, right through to more funding opportunities. The process is a little less daunting now, and there are a lot of fantastic disability employment agencies out there these days.
I am also into Powerlifting. I still can't believe I am still doing it to this day. I'm no longer lifting what I class as insane 150-kilo weights as the skin on my hands has deteriorated a little bit recently. But I am still lifting about 130 kilos these days.
I had always had a strong upper half from pulling myself around. The powerlifting thing came about after hanging out with a few footy mates. My mate, Brad Thorn, asked me to do a pushup, then another, then another.
Brad then suggested taking me to the gym when no one was around. A gym program was developed that would challenge any elite athlete. To be at an Olympic level and a world-class level is something that I never thought I'd ever be able to do when I still, at times, struggle to pick up a glass of water. That mental aspect enables me to push myself and have that trust to read what my body is telling me that gets me through.
These days I am based in Brisbane. I spend two-thirds of my time in Brisbane and travelling all over Australia sharing my story and the rest of my time up here in Hervey Bay where I have my own little house. My older sister and my niece and nephew live in the area, so it was a great thing when the opportunity came to buy. That was ten years ago. I get the best of both worlds now.
If you would like to book motivational speaker Dean Clifford to speak at your event, contact Dean directly at www.deanclifford.com. Or to learn more about Epidermolysis Bullosa you can visit www.debra.org.au.