– By Kim Parnell –
Hairdressers Brett Wise and Lee Hayward know their craft well and collectively have worked in the hairdressing industry for over seventy years, including thirteen of those as salon partners. Between the two, they have a wealth of experience to draw from once again with the opening of their brand-new salon, Madame Me Me's for Hair, in Hervey Bay.
Lee was born in the UK and moved to Australia about twenty years ago. Having a head for numbers, he was originally going to become an Accountant, but when he left school, that idea was swept under the carpet after going for a job interview at a high-end salon and landing the job. "I fell in love with hairdressing and couldn't believe people got paid to do it.
"I have worked for several large hair companies such as Alfaparf, Milano, and GHD and not only having taught hairdressing but have styled for film awards, fashion shows, and magazines.
"I came to Brisbane to do a hair photoshoot in Paddington and found that I preferred Brisbane, so I moved from Sydney".
Lee has styled hair for many celebrities, including Rebel Wilson, Vince Colosimo, and Sigrid Thorton, and describes Sigrid as one of the loveliest celebrities he has styled.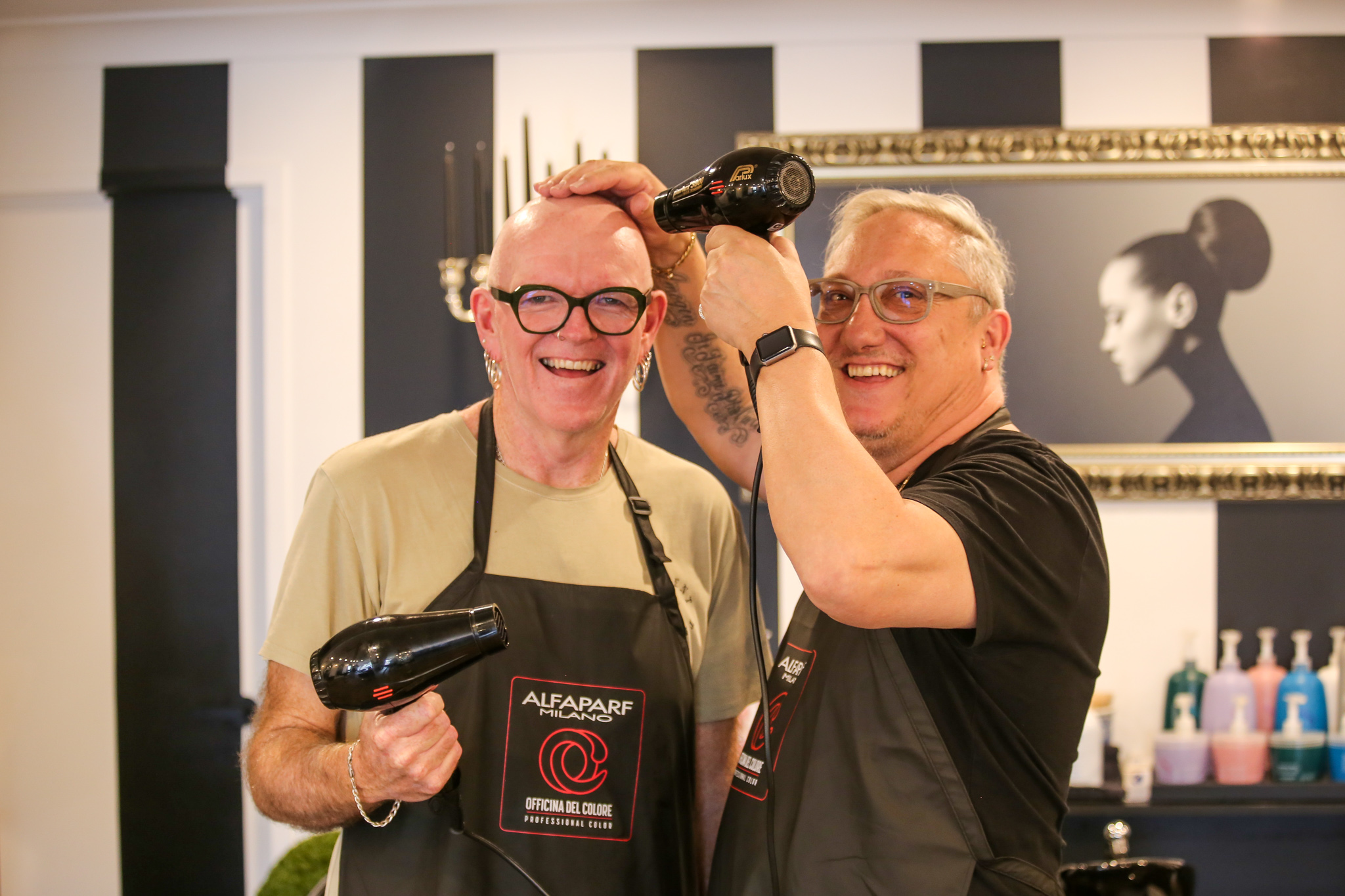 Brett was born in Gympie and spent his younger years in Goomeri, where his parents owned a bakery. In the early '60s, the family moved to Hervey Bay and bought a bakery at Urangan, where the Urangan Art Gallery is now located.
As a teenager, Brett moved to the Sunshine Coast and worked, worked in retail. But he had bigger dreams.
"I was going through an outrageous stage with my hair and clothing and met a friend whose brother was a hairdresser. I applied for a hairdressing job and got it. The rest is history.
"I knew as soon as I picked up my first pair of scissors and started cutting that I had found my niche in life.
"I owned a very successful salon in Brisbane for twenty-two years before returning to Hervey Bay.
Brett has also styled a few celebrities in his time, including Supermodel Kristy Hinze, and actors Richard Huggett, and Paula gardener.
Having holidayed in Hervey Bay over the years, Brett knew that one day he would like to retire there. However, it took a near-death experience to realise that he didn't want to wait until retirement.
"When you nearly die, it is life-changing and makes you reassess your whole life.
"We had an amazing business in Brisbane, it was a beautiful salon with a huge clientele, but we decided to throw caution to the wind and open a salon here in the bay.
"The timing was perfect, and we are excited to share our craft with the people of Hervey Bay.
"From the moment the client walks into the salon, they are wowed by the luxurious, opulent décor and the personable service, not to mention a complimentary glass of champagne upon arrival if the client so desires.
"Here at Madame Me Me's for Hair, it's not just a hairdo; it's an experience
Brett has also written a book about his life that he would like to publish one day soon, so stay tuned!