Discover the magic of Mary Poppins
Once upon a time, a baby girl was born in the upstairs bedroom at the Australian Joint Stock Bank on the corner of Kent and Richmond Streets in Maryborough, Queensland. Her name was Helen Lyndon Goff, but she became known to the world as P.L. Travers, author of the Mary Poppins stories.
Visit her heritage-listed birthplace which has been transformed into The Story Bank – a bank that trades in stories.
As you cross the threshold, you will enter a world where fantasy and fact intertwine.  Tales and yarns, myths and legends, memories and stories – share in their retelling and their creation.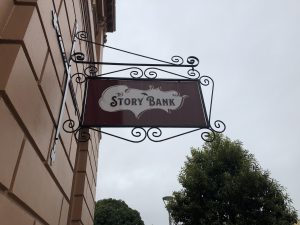 Discover
Maryborough's unique connection with P.L. Travers – the story of her life, her family, the influences on her writings and the retelling of her stories. Interact with the characters and settings from her popular Mary Poppins stories.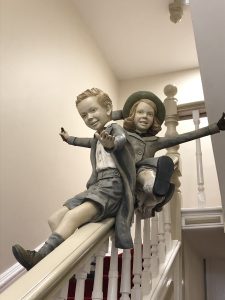 Be inspired to find your own story
Sprinkled with a generous amount of whimsical playfulness, The Story Bank takes you on a delightful journey through the storytelling process.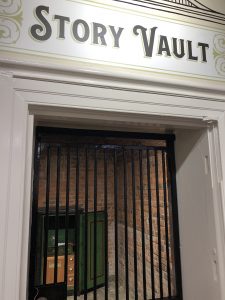 Share
The Story Bank has a great story to tell… but most of all, they invite you to come to find your own story and add it to their collection
Explore the magnificently restored heritage-listed building.
Interact with displays that survey the life of P.L. Travers and her magical Mary Poppins stories.
View collections of images and documents from P.L. Travers estate.
Delve into the Cabinet of Curiosities and the Library of Inspiration.
Open an account and discover the art of storytelling by depositing your own creations.
Share in stories crafted by Artisans of Story Telling in the Theatrette and Gallery.
Find unique gifts and books in the retail cottage.
Bookings are required and can be made in person, over the phone, through email, or through Facebook.
It is recommended you give yourself an hour to fully explore the building.
Opening Hours:
Open every day from 10 am to 2 pm
Bookings essential during school holidays, see contact details below.  We recommend an hour for you to explore.
Booking times: 10am-11am, 11am-12noon, 12noon-1pm, 1pm-2pm.
Ticket Prices:
Adult – $10
Child (5-17 years) – $5
Concession – $8
Family (2A+2C or more) – $25
* Companion cards accepted
* Special discounts for residents of the Fraser Coast and groups of 10 or more.  Enquire for more information.